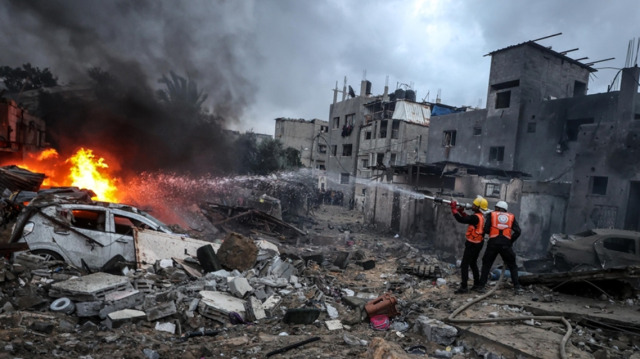 The Russian and Iranian foreign ministers on Sunday discussed over phone the situation in Gaza as Israel's war rages on.
Sergey Lavrov and Hossein Amir-Abdollahian underscored the importance of an immediate cease-fire and aid delivery to the impacted civilian population, according to a Russian Foreign Ministry statement.
They also discussed forthcoming meetings and matters on the shared bilateral and international agenda.
Israel has killed 13,000 Palestinians, including 5,500 children and 3,500 women, in its air and ground attacks on the Gaza Strip since the surprise offensive by Hamas on Oct.7. The official Israeli death toll, meanwhile, stands at about 1,200.
Thousands of buildings, including hospitals, mosques, and churches, have either been damaged or destroyed in Israel's relentless strikes on the besieged enclave.
An Israeli blockade has also cut Gaza off from fuel, electricity, and water supplies, and reduced aid deliveries to a trickle.
Tel Aviv has rejected growing calls for a cease-fire until the release of hostages held by Hamas. Prime Minister Benjamin Netanyahu on Saturday said "we will only agree to a temporary cease-fire and only in exchange for the return of our hostages."
#
Hossein Amir-Abdollahian
12 gün önce