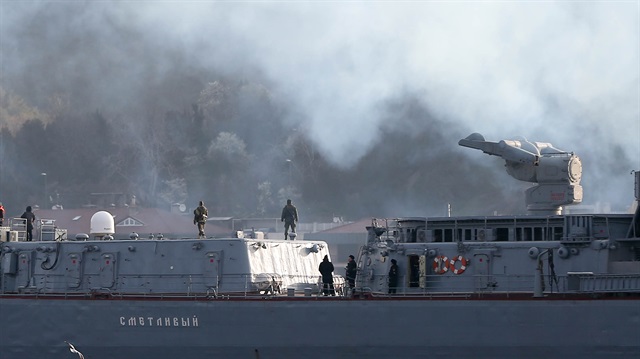 A Kashin-class Russian destroyer sailed from Black Sea to Marmara Sea on Monday under heavy security. The reports on morning said that at least six military officials could be seen standing on the front and the back deck and in deck house of Semetlivy, a destroyer with bow number of 870, based in Russian Navy's Black Sea fleet, while it was passing through the Bosphorus en route to Marmara Sea on Monday.
Turkish coast guard and marine police boats tagged the Russian warship during its passage through the Bosphorus Strait. A police helicopter was also seen hovering over the Bosphorus as part of security measures.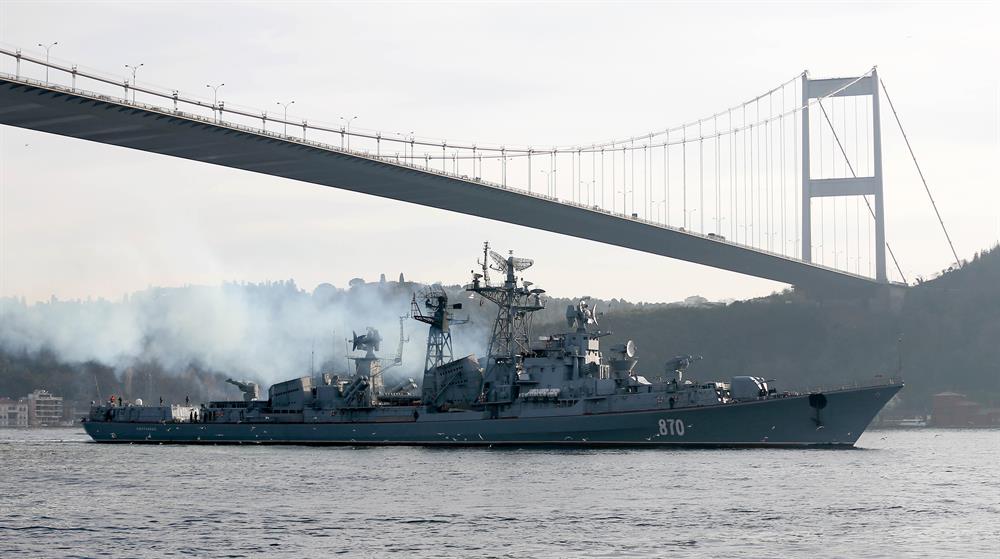 Turkey had summoned Russian envoy Andrey Karlov to protest the provocative passing of a Russian warship through the Bosphorus Strait in Istanbul before in recent months. The footage of the provocative passage, aired on Turkish television channels, showed a Russian soldier holding a surface-to-air missile in firing position on the deck of Russian warship "Caesar Kunikov" as it was passing through the Strait en route to the Mediterranean Sea on December 7, 2015.
After the incident, Foreign Minister Mevlüt Çavuşoğlu has called on Russia to end "provocative acts," saying Turkey obeys the Montreux Convention and has not blocked any Russian ships from passing through the Bosphorus. The Montreux Convention is an agreement that gives Turkey full control of passage through the Bosporus Straits and the Dardanelles. Under the agreement signed in 1936, Turkey has authority to regulate the transit of naval warships through the Straits. The international deal assures the free passage for civilian ships in peacetime.
Relations between Russia and Turkey have remained strained after Turkey's downing of a Russian fighter jet which had violated the country's airspace despite several warnings to change its route to the South. Russia denied any violation and claimed its bomber was in Syria's airspace in connection with its anti-Daesh campaign.
President Vladimir Putin imposed economic sanctions on November 28, just four days after Turkey shot down the Russian SU-24 bomber. The first sanction regime included a ban on imports of Turkish food products, prohibition of Russian travel agencies from offering tours to Turkey and an end to visa-free travel.