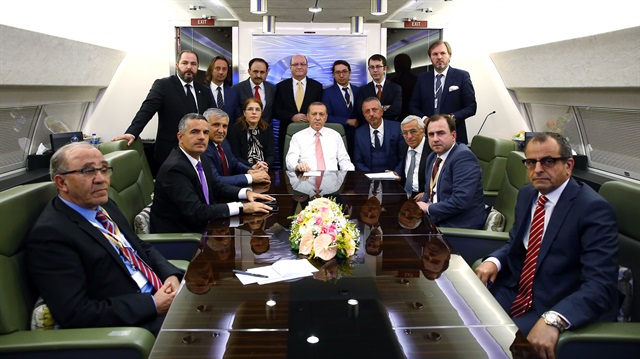 Turkish President Recep Tayyip Erdoğan described his official visit to the Russian city of St. Petersburg, where he met President Vladimir Putin, as a milestone.

"I believe this visit was a milestone," Erdoğan told journalists accompanying him on his return flight on Wednesday.

Erdoğan's meeting with Putin registers as the first face-to-face between the two leaders after Turkish military shot down a Russian SU-24 that violated Turkey's airspace on Nov. 24 last year. The incident led the relations to a historic bottom, as both Moscow and Ankara had halted several economic and business projects.

Erdoğan described the St. Petersburg meetings as being productive in a positive atmosphere, as both parties discussed many issues from economy to energy, from defense to joint investment, from bilateral issues to Syrian peace initiatives.

Bilateral trade tops the list

The first and most important issue was bilateral trade, Erdoğan said, adding that he and his Russian counterpart agreed to overcome the pre-crisis era.

"You know we had a $100-billion trade volume target. Now we are counting on surpassing this target. We have faced a dramatic fall in the last two years. Now we are working for rapid recovery," Erdoğan said.

Erdoğan said the Akkuyu Nuclear Power Plant that Russia will build and the Turkish Stream natural gas project was one of the most prioritized issues in their discussion.

Erdoğan said Turkey had accepted the Russian request to designate the Akkuyu Plant as a strategic project, which will allow it to gain certain advantages. Ankara's request for the two sides to share ownership of part of the new pipeline passing through Turkey was accepted by Moscow, Erdoğan added.

According to new measures, both countries will invest 50-50 in the Turkish phase of the pipeline project.

Finance and currency trade

"We also talked with Putin about using our currencies for trade. If that happens, the dollar will depreciate even further against the TL. Both Russia and Turkey will win," he added.

Erdoğan also stated that Turkey and Russia will establish a joint investment fund, which will allow the newly founded sovereign fund of Turkey to cooperate with the already existing Russian counterpart to make joint investments.

While asking whether a third party would be allowed to the fund, Erdoğan answered, "Of course. It could be. A very large number of investment will emerge in the joint fund. Third countries will able to invest here, if that would be beneficial."

He also noted that both of them discussed charter flights to Turkey and agricultural products' export to Russia, adding that both issues will be solved in a short period of time.

"We also discussed the visa problem for Turkish workers and talked about the implementation of the visa free regime again," Erdoğan told journalists.

Intelligence, Military and Diplomatic détente

In order to start a new chapter in relations and ease the past tension, new bilateral meetings would be scheduled.

Erdoğan said he suggested the Russian president restarts the High Level Strategic Council (HLSC) and they agreed to hold a HLSC meeting in December in St. Petersburg.

"Another issue was defense industry cooperation, which I believe will progress significantly in the future. Meetings will be more frequent," he noted.

"Some works had already been run on the issue including the Undersecretariate of our Defense Industry. I believe the works will continue in a different way from now," Erdoğan predicted.

When asked about the Syria issue, the Turkish President said he proposed a three-leg work with Russia to find a sustainable solution of Syrian conflicts.

"I proposed to establish a three-leg mechanism of intelligence, military and diplomatic officials, so they can go through the issues," Erdoğan said, adding that the Turkish delegation would fly to Russia immediately.

"They will hold meetings on Thursday [today]. Our delegation will show that humanitarian corridors around Aleppo are not used for other purposes," according to Turkish President.

He said Ankara is concerned about a new structure in northern Syria. "The next steps are important in this regard," he added. "The Syrian issue is not separated from other development in the world. It [Syrian issue] has links with many global issues including the Presidential election in the U.S. So the delegations' meeting in Moscow is very important."

Erdoğan said he asked Putin about the PYD's office in Moscow. "Putin told me he had no information about this and heard it from us for the first time. We provided the photographs of the office. He will follow the issue closely," Erdoğan added.

Relations with US and Europe

When asked how the U.S. and Europe would view his meeting with Putin, Erdoğan said, "What's important is not how it's perceived. What's important is how the meetings went. Were they productive?"

He reiterated his dissatisfaction over Europe and the West's attitude following the failed coup attempt. He underlined that Europe expressed their complaints over the detention of coup plotters instead of showing a strong solidarity with the Turkish government and its citizens.

President Erdoğan also stated that Sunday's Democracy and Martyrs Rally in Istanbul was an eye opener for the U.S. authority.

He hoped the U.S. heeds the call from the 5 million people at the rally for the extradition of Fetullah Gülen, the U.S.-based leader of the Fetullah Terrorist Organizations (FETÖ) that operated the military coup attempt on July 15.

"We hope the U.S. hears this voice and hands over this individual [Fetullah Gülen] as soon as possible. The necessary dossiers have been sent. I hope they don't make any excuses, like it is hard to go through 85 boxes of documents," he said.