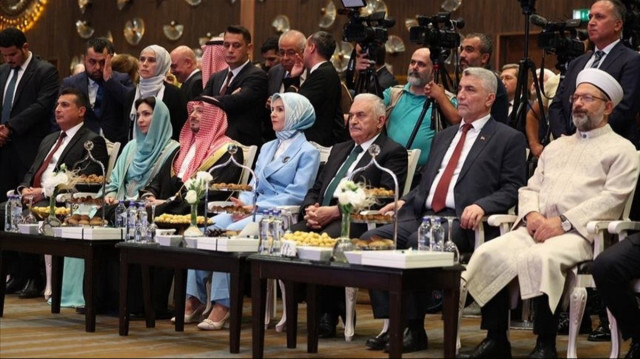 The Saudi Embassy in Türkiye's capital Ankara marked the 93rd anniversary of the kingdom with a reception on Monday.
The embassy convened an event at a hotel to celebrate the Saudi National Day, which was attended by Turkish government officials, the Saudi ambassador, and other guests.
Among the attendees were Turkish Family and Social Services Minister Mahinur Ozdemir Goktas and Trade Minister Omer Bolat.
Mohammed Alharbi, charges d'affaires at the Saudi Embassy, read the message of Fahd bin Asaad Abu Al-Nasr, the kingdom's ambassador in Ankara.
The message said as Türkiye marks the 100th anniversary of its foundation, Saudi Arabia expects to work with Ankara to realize common visions and to cooperate more.
The message, which recalled the historical relations between Ankara and Riyadh, thanked Türkiye for its support for Saudi Arabia's candidacy to host the 2030 International Expo Fair.
It also pointed out Saudi Crown Prince Mohammed bin Salman's visit to Ankara in June and Turkish President Recep Tayyip Erdogan trip to Jeddah in July, as both visits crowned the bilateral relations.
It recalled the nine agreements signed in various fields including direct investment, defense industry, energy, defense, and communications during Erdogan's visit.
The cooperation between Türkiye and Saudi Arabia is definitely in interests of the societies of both countries and the whole world, the message said.
2 months ago