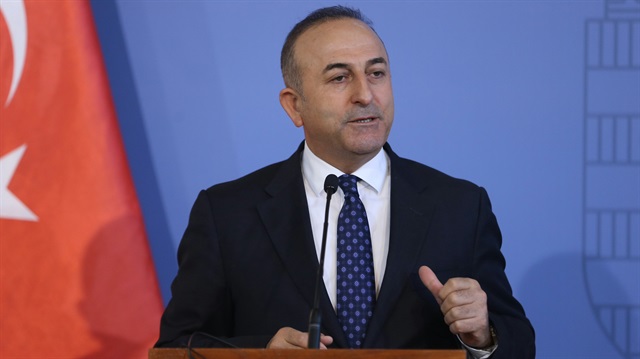 Turkey's Foreign Minister Mevlüt Çavuşoğlu said that Saudi Arabia is to send jets and military personnel to Turkey's Incirlik Airbase over a mutual agreement but noted that the number of jets and soldiers is still unclear.
"At every coalition meeting we have always emphasized the need for an extensive result-oriented strategy in the fight against the Daesh terrorist group," Çavuşoğlu said in his statement to Turkish daily Yeni Şafak after speaking at the meeting in Munich, Germany where representatives were discussing measures needed for the Syrian civil war.
"If we have such a strategy, then Turkey and Saudi Arabia may launch an operation from the land. Some parties keep saying that Turkey is unwilling in the fight against Daesh, despite Turkey's pushes for more tangible suggestions," said Çavuşoğlu.
"Saudi Arabia visited the base for exploration. Saudi Arabia declared its determination against Daesh by saying that they were ready to send both jets and troops," said Çavuşoğlu, adding that they don't have a certain plan for a land operation.
"We have been cooperating with Saudi Arabia in many fields, especially in defense, as we have very close relations with Qatar. Also despite having some problems with the United Arab Emirates, now we are recovering our ties. These cooperations have significance for the stability and the security of the region," Çavuşoğlu said.
Çavuşoğlu also reiterated Turkey's criticism of the United States' (US) recent statement, that it does not recognize the Democratic Union Party (PYD) as a terror organization and said that they should decide whether they are on Turkey's or PYD's side.
"No one can raise their voice to Russia, which has been launching attacks on Syria, only 12 percent of which are targeting Daesh terrorists. We have been asking for a solution which will ensure humanitarian aid and the end of the attacks. People are left to that in the beseiged regions. This is a crime. Russia's target is supporting Assad, we all know that. But the question is this: Who will stop Russia doing that? United Nations, NATO or the US?" said the Turkish Foreign Minister.
Statement amid fresh attacks
Turkish Foreign Minister's comments came a few days after the statement of State Department spokesman John Kirby, that the US doesn't recognize the PYD as a terrorist organization and it will continue with PYD as a coalition in the fight against Daesh and amid the airstrikes on predominantly Turkmen quarters in central Aleppo.
Turkey might have to cope with larger waves of refugees if government troops, backed by Russian air forces, continue to make serious gains in Aleppo.
A recent survey of the Syrian Center for Policy Research revealed that an estimated 470,000 people were killed during the Syrian Civil War.
About 400,000 of the deaths were directly due to violence, while 70,000 died from lack of proper health care, medicine, clean water or housing.
8 years ago