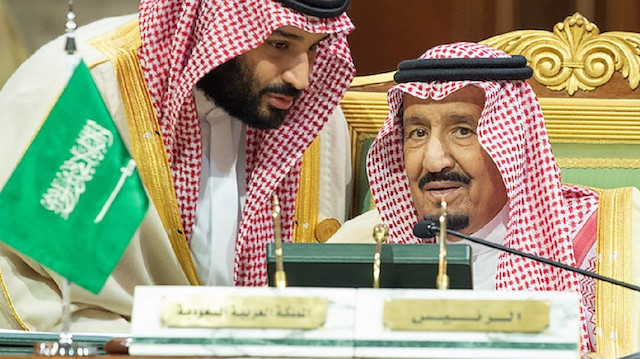 Saudi Arabia's king Salman bin Abdulaziz is said to have sidelined his son Crown Prince Mohammad bin Salman in talks over U.S. President Donald Trump's son-in-law Jared Kushner's anticipated "deal of the century" to resolve the Palestinian- Israeli conflict, according to an Israeli report.
The report, which was written by analysts from the Israeli Foreign Ministry's Political Research Center, was classified "secret" because it deals with the highly sensitive issue of Saudi-Israeli relations.
It is said that the report claims Saudi Arabia's King Salman "had taken back the Israeli-Palestinian file back from his son, Crown Prince Mohammed bin Salman," and will "no longer support" the proposed "deal of the century" for Palestine.
According to the classified report cited by U.S.-based news website Axios, Saudi Arabia will not support the Trump administration's Middle East peace plan and won't normalize relations with Israel "unless the Israeli government makes a substantive concession to the Palestinians"
The report was sent to a small group of ambassadors and national security officials in the Israeli government.
The terms of Washington's peace plan remain vague. But according to recent speculations, Palestinian refugees will be asked to concede their right to return to historical Palestine, from which they were driven in 1948 to make way for the new state of Israel.
According to Palestinians, the U.S. administration seeks to impose a political solution that calls for the establishment of a state in the Gaza Strip and a limited autonomy in the West Bank, with Israel retaining control over the city of Jerusalem.
The PA has rejected U.S. mediation since December 2018, when Trump officially recognized Jerusalem as Israel's capital.
Jerusalem remains at the heart of the Middle East conflict, with Palestinians hoping that East Jerusalem -- occupied by Israel since 1967 -- might eventually serve as the capital of an independent Palestinian state.