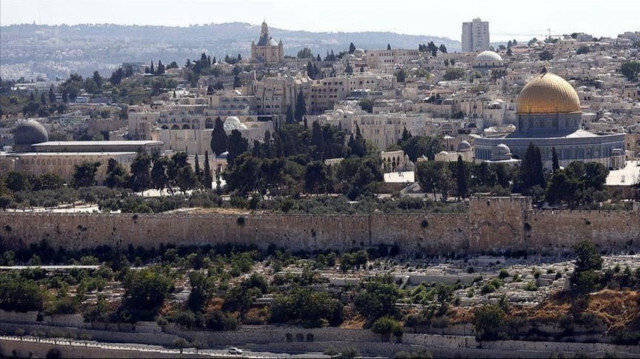 Scores of Israeli settlers on Monday forced their way into Al-Aqsa complex in occupied East Jerusalem on the occasion of Yom Kippur holiday, the holiest day in Jewish calendar.
Guarded by the Israeli police, the settlers entered the complex in groups via its western gate of al-Maghariba, witnesses told Anadolu.
The Israeli police detained a Palestinian individual in the mosque's courtyard during the incursion.
Israeli settler groups have called on supporters to converge on the Al-Aqsa complex to mark the Yom Kippur holiday which began on Sunday and lasts until Monday evening.
On Sunday, the Jordan-run Islamic Waqf Department said 658 settlers stormed Al-Aqsa.
Yom Kippur is considered the holiest day in the Jewish calendar. It is traditionally observed with a day-long fast and special services at synagogues.
Israeli Jewish holiday season started on Sept. 15 with observing the Rosh Hashanah (New Year) holiday. They will also mark the Sukkot holiday at the end of September and the Simhat Torah holiday on Oct. 6.
For Muslims, Al-Aqsa represents the world's third-holiest site. Jews, for their part, call the area the Temple Mount, saying it was the site of two ancient Jewish temples.
Israel occupied East Jerusalem, where Al-Aqsa complex is located, during the 1967 Arab-Israeli War. It annexed the entire city in 1980 in a move never recognized by the international community.
3 ay önce