The hidden relationships between the Masons and Fethullah Gülen, the number one suspect of the parallel structure probe, was unveiled as Turkish Daily Yeni Şafak reached some secret documents which have never been published before.
According to these papers, Gülen took an oath of Freemasonry in his youth and was appreciated and rewarded by the Grand Lodge of Free and Accepted Masons in 1969.
Gülen, popularly known as an Islamic cleric in Turkey, entered the Assembly of Turkish Grand Masons through a secret oath ceremony in 1975. Gülen was regularly attending the "Brotherhood Supper", a weekly Masonry meeting, at the then Tennis Fencing and Mountaineering Club in Taksim to 'share the salt and bread".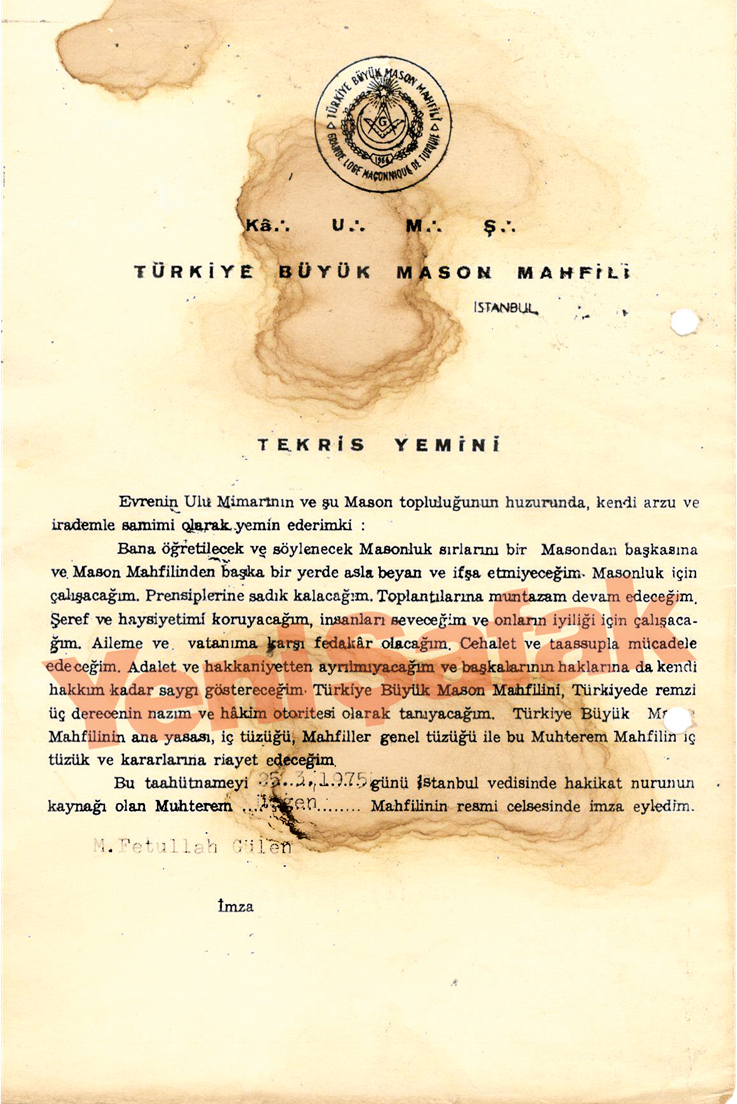 Gülen's Freemasonry oath certificate
SORWAR ALAM
2015-03-30T12:42:47.3256529+03:00
Gülen's Freemasonry oath certificate
GÜLEN'S MASON GROUP LINKED HIM TO INTELLİGENCE GROUPS
The secret documents also prove that Gülen communicated with the Moon Sect, MOSSAD and CIA via Knights Templar, as he was nurtured and prepared as a project.
The documents also display Gülen's strong ties with former CHP general secretary Kasım Gülek, a self-declared Mason, who introduced Gülen to the Moon Sect and the CIA.
According to a letter written by Gülek on July 16,1967 to Fethullah Gülen and some other famous Masons in Turkey, Gülek reproached and self-criticized the division of Masonry. He also mentioned that some of their friends from the Masonry had offended Fethullah Gülen and other "brothers".
An initiation oath document signed by Fethullah Gülen shows that he took the Masonry oath on March 25, 1975, and swore to work for the Turkish Grand Mason Assembly. He signed the document at the formal session of the Triangle Assembly in Istanbul.
According to another document dated July 1974, it's revealed that Fethullah Gülen had been invited to a regular Masonry meeting held on Fridays.
Fethullah Gülen, known as an Islamic cleric, is the leader of the Turkey-based Gülen Movement, which is weaving its work through hundreds of schools worldwide. The leader of the movement has been living in self-imposed exile in Pennsylvania, USA, since 1999, and repeatedly rejected calls to return to Turkey. The movement became widely spread after Turkey started to stand on a base of democracy in 2002. In 2013 the movement-affiliated 'parallel structure', an illegal formation inside the Turkish police department, judiciary and other public institutions, tried to make a civil coup to overthrow the elected Government led by the then Prime Minister Recep Tayyıp Erdoğan.
The structure wiretapped hundreds of thousands of political figures, including top government officials such as the prime minister, intelligence chief, foreign minister and other ministers, journalists, academicians and businessmen. The Government launched a wide-scale operation against the parallel structure. On December 19, 2014, a Turkish court found Gülen guilty of being the primary suspect over forming an illegal armed terrorist group, trying to make a coup attempt, and destroying the public order, and issued a warrant for his arrest.