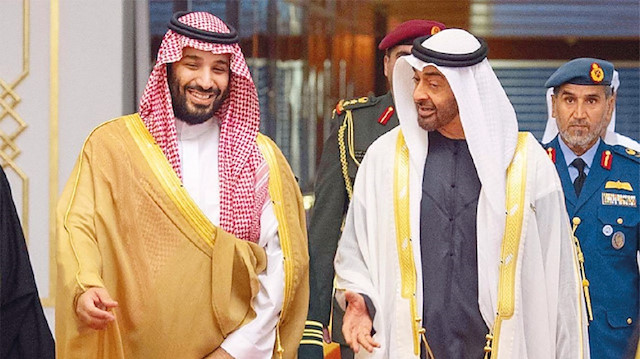 A secret meeting held in a Gulf capital last month and attended by Israel, Saudi Arabia, United Arab Emirates and Egypt designated Turkey as a "major threat" in the region, according to media reports.
According to a new report by London-based Middle East Eye, officials from the four countries in attendance agreed at the meeting that Turkey, rather than Iran, is their "major military rival in the region, and discussed plans to counter Ankara's influence."
During the meeting, Israeli officials pointed "that Iran could be contained militarily", but that Turkey had "a far greater capability," according to the report.
Mossad Chief Yossi Cohen is reported to have said at the meeting: "Iranian power is fragile. The real threat comes from Turkey."
Measures were agreed upon during the meeting to "counter Turkey's threat," one of which included support for Syria's Kurdistan Workers' Party (PKK) terrorists to curb Turkey's attempts to clear YPG terrorists "from the Turkish border right up to the Iraqi border."
The intelligence officials also agreed to strengthen relations with Iraq's Kurdistan Regional Government (KRG), and prevent any reconciliation with Ankara since the semi-autonomous region's failed independence referendum in 2017.
Officials from the convened countries also agreed to hatch a plan to rehabilitate embattled Syrian President Bashar al-Assad, discussing a diplomatic initiative to restore full diplomatic relations between the three Arab states and Assad, with Tel Aviv's help.
The United Arab Emirates reopened its embassy in Damascus in December, marking a diplomatic boost for President Bashar al-Assad from a U.S.-allied Arab state that once backed opposition members fighting him.
"The Saudis themselves do not want to be in the vanguard of this diplomatic push to court Assad. However they agree with the policy of attempting to lever Assad to weaken Turkey," an official cited by the MEE report said.