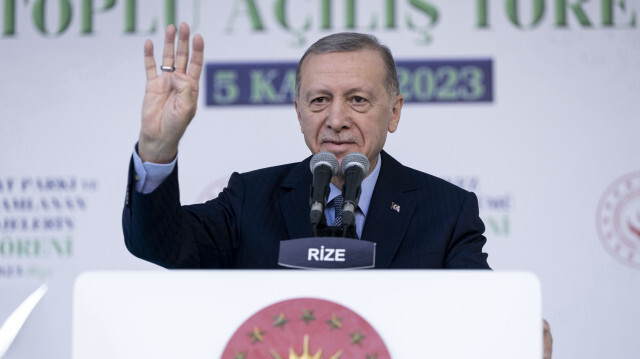 It is Türkiye's duty to stop the bloodshed in Gaza, President Recep Tayyip Erdogan said on Sunday.
Speaking at a local inauguration ceremony in the northeastern Rize province, Erdogan said that Türkiye has an obligation to "save Palestinians from Israel's oppression."
"It is our duty to stop the bloodshed in Gaza, which is being carried out in front of the very eyes of the international community," he said.
"We are doing and will continue to do more than what is visible," Erdogan said, implying Türkiye's efforts for Palestinian people.
Türkiye will never leave its brothers and sisters in Gaza alone, he promised.
"It is our historical responsibility to call out the crimes of those supporting this immoral, unscrupulous, despicable massacre (in Gaza)," Erdogan added.
The residents of Gaza are suffering from a catastrophic humanitarian and health situation. Israeli still bars fuel entry into Gaza, leaving many hospitals out of service.
According to the UN and Red Cross, insufficient amount of humanitarian aid is being allowed to the Gaza Strip, which has been under a near-total blockade for 30 days.
Over 9,700 Palestinians including 4,800 children and 2,055 women have been killed in Israeli bombardments since Oct. 7, according to the Gaza Health Ministry.
Nearly 1,540 Israelis have been killed.
#
President Recep Tayyip Erdogan
1 month ago