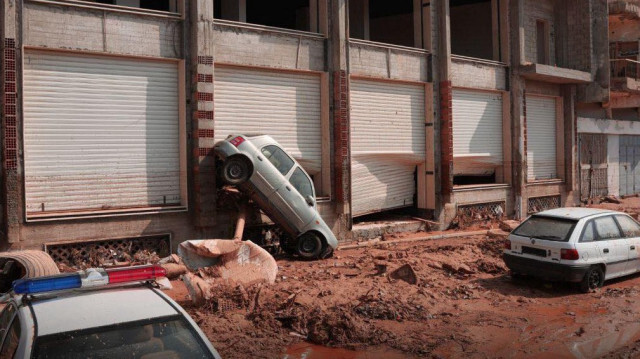 Libya's eastern city of Derba was hardest-hit by devastating floods caused by Storm Daniel, leaving thousands of people dead.Officials said at least 5,200 people have been killed and 5,000 others still unaccounted for in Derna alone following the deadly storm and floods.Adding to the tragedy in Derna was the collapse of two dams, dragging large parts of the coastal city into the sea.The city is bisected by the Wadi Derna, a seasonal river that flows from highlands to the south, and normally protected from flooding by dams."The cause of the high death toll and massive destruction in Derna is that half of the city is located under the course of Wadi Derna," Faraj Daoud al-Darnawi, a Libyan historian, told Anadolu."Wadi Derna is an outlet for all torrents coming from south of the city," al-Darnawi said. "But as the Wadi was filled with water from rains caused by Storm Danie, two dams that were supposed to hold the water collapsed, causing the tragedy."
- Source of dangerThe Libyan historian said that Wadi Derna has been a source of danger to the city's population."Wadi Derna is the most famous valley in Libya and the most prominent landmark in the city," al-Darnawi said."However, it has been a source of threat to the locals as it has previously caused disasters similar to what happened now," he added.Al-Darnawi recalled that major floods had struck Derna city in 1941."No one talked about the massive damage at that time as the floods took place during World War II," he added.He also cited similar floods in 1959 and 1969 in the city."Hundreds of people were killed and injured in the floods of 1959 due to the rising water level in Wadi Derna," he added.
- DestructionAl-Darnawi said the floods caused by Storm Daniel had caused the collapse of al-Bilad and Boumansour dams in Derna city."Those two dams were built in 1986," he said."After their construction, a leak occurred in one of the two dams, causing floods that left several people dead," he said.Initial reports indicate that dozens of villages and towns were submerged by the deadly floods in Derna."The network of roads and bridges in Derna has totally collapsed," Al-Hussein Sweidan, head of the roads and bridges department in the Tripoli-based Libyan government, told Anadolu.He estimated the cost of rebuilding the damaged roads and bridges in the city at around 300 million Libyan dinars ($67 million).On Monday, Libya's Presidency Council appealed to friendly countries and international aid groups to provide aid to the flood-stricken areas in the eastern region.
3 ay önce