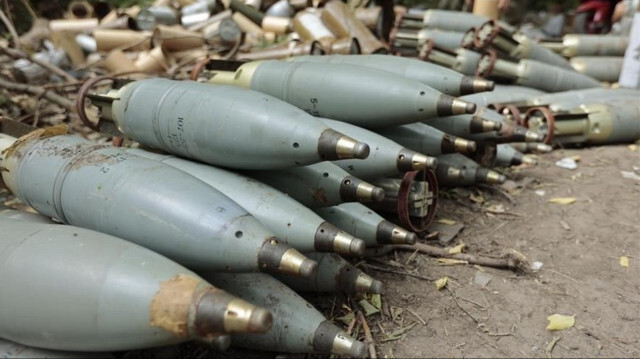 Stepping up its opposition to the supply of weapons to the Ukraine battlefield, China said arms "cannot win peace."
Addressing a UN Security Council briefing on arms supply to Ukraine, Beijing's deputy permanent representative at the UN, Ambassador Geng Shuang, said China finds the "dire consequences of continuous provision of weapons to the battlefield worrying and disconcerting."
"Weapons may be used to win the war, but they cannot win peace," said Geng, according to a transcript of his statement to the UNSC on Thursday.
"Currently, the massive influx of weapons and equipment to the battlefield persists with expanding spillover effect, making the hope of ceasing hostilities more remote," said the Chinese diplomat.
The US and its allies have supplied Kyiv with heavy arms since Russia launched its war on Ukraine last year in February.
"For some time now, an increasing number of countries have raised their voice of reason and proposed peace initiatives," said Geng.
The Chinese diplomat called on the relevant parties to "respond positively to the call of the international community, keep calm and maintain restraint, refrain from an escalation of tensions, step up engagement, galvanize consensus, and gradually create conditions for the final settlement of the crisis."
- 'Abuse of Security Council'
Meanwhile, in a separate briefing on North Korea, Geng said China was opposed to the UN Security Council's consideration of the human rights situation in the Democratic People's Republic of Korea (DPRK), the official name of North Korea.
"That position is crystal clear," Geng told the UNSC.
"According to the UN Charter, the primary responsibility of the Council is the maintenance of international peace and security, not addressing human rights issues," said the Chinese diplomat.
Currently, the US presides over the UNSC under a monthly rotation schedule.
"The human rights situation in the DPRK does not pose a threat to international peace and security," he said.
Pointing out "turmoil" in the international situation, Geng said: "The council should focus on fulfilling its responsibility under the Charter, strive to promote the peaceful settlement of disputes and the resolution of geopolitical confrontations, and deal with major and urgent issues that threaten international peace and security."
Acknowledging that the situation on Korean Peninsula has "remained tense and confrontation has intensified," the Chinese diplomat said: "All parties should exercise calm and restraint, do more for peace and stability, and refrain from mutual provocation and escalatory words and deeds."
"At this complex and sensitive time, the council should play a constructive role in resuming talk and easing tensions. Pushing the council to consider the human rights situation in the DPRK will not help ease, but escalate the situation," he said.
"It is irresponsible and nonconstructive, and an abuse of the (Security) Council's power," he added.
4 ay önce