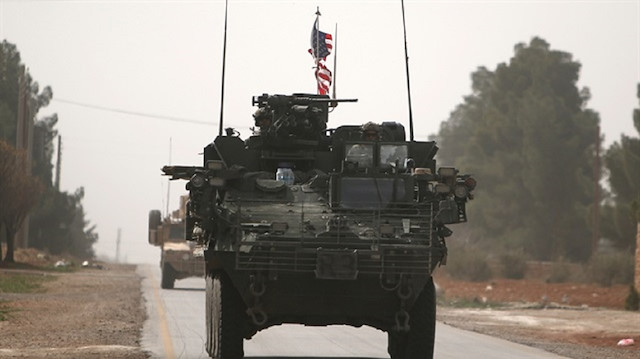 Despite international deals Turkey reached with the U.S. and Russia for the withdrawal of the terror group YPG/PKK from northeastern Syria, the U.S. is continuing joint patrols of oil fields with YPG/PKK terrorists in the country's far northeast.
Anadolu Agency cameras captured U.S. army personnel carrying out joint patrols with YPG/PKK terrorists around the city of al-Malikiyah, in northeastern Syria.
The terrorists -- part of the terror group's so-called special forces called HAT -- are also providing security for the U.S. forces.
The U.S. soldiers, who beefed up their presence around oil wells in recent weeks, were also seen meeting with representatives of the terrorist group.
The U.S. has long partnered with YPG terrorists, ostensibly to fight Daesh/ISIS, ignoring evidence supplied by Turkey that the YPG is in fact part of the terrorist PKK, which the U.S. does recognize as a terror group.
After ordering a withdrawal of U.S. forces from northern Syria last month around the time Turkey launched its anti-terror Operation Peace Spring in the region, U.S. President Donald Trump backpedaled, saying U.S. troops would stay in the region "to secure the oil."
"We have taken it and secured" the oil, he said, suggesting "a deal with an ExxonMobil or one of our great companies to go in there and do it properly."
Without mentioning the U.S., Turkish officials have said that while freeing locals from terrorist oppression is a legitimate reason for having troops in Syria, taking oil is not.
Speaking on Saturday, Turkish Foreign Minister Mevlut Cavusoglu said, "No one has the right to the wealth of Syria except the Syrian people."
The U.S. had withdrawn its forces from 16 bases in Syria during Operation Peace Spring, but its soldiers recently returned to six bases and military posts.
Turkey on Oct. 9 launched Operation Peace Spring to eliminate YPG/PKK terrorists from northern Syria east of the Euphrates River in order to secure Turkey's borders, aid in the safe return of Syrian refugees, and ensure Syria's territorial integrity.
The U.S. and Turkey on Oct. 17 came to an agreement to pause the operation to allow the withdrawal of terrorist YPG/PKK forces from the planned safe zone, where Ankara wants to repatriate millions of Syrian refugees it is currently hosting.
On Oct. 22, Turkey reached a separate deal with Russia to force YPG/PKK terrorists to withdraw from the planned terror-free zone with their weapons.
Turkey has complained that despite the deal, the terrorists have remained and continue to carry out attacks.
In its more than 30-year terror campaign against Turkey, the PKK -- listed as a terrorist organization by Turkey, the U.S. and the European Union -- has been responsible for the deaths of 40,000 people, including women, children and infants. The YPG is the PKK's Syrian offshoot.
3 yıl önce