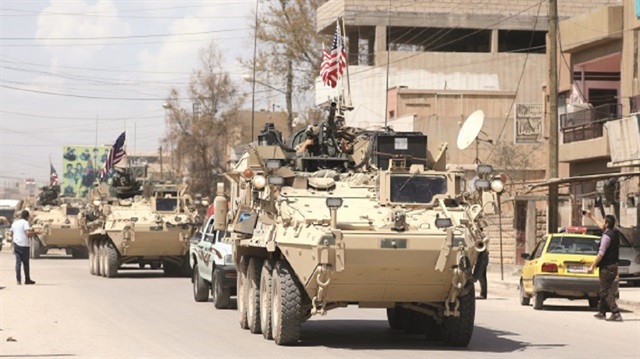 The U.S. is preparing to establish a new air base in regions occupied by the terrorist Kurdistan Workers' Party (PKK) organization in Syria; steps are gradually being taken by the U.S. and Russia toward dividing the war-torn country, according to the latest reports.
The U.S., which is cooperating with PKK terrorist forces on the ground, is expected to deploy troops to a new military base that is set to be established 40 km west of the northeastern PKK-occupied Syrian city Hasakah.
U.S. forces are currently deployed to the cities of Rumeilan, Qamishli, Ayn al-Arab and Tal Abyad.
The new military base that is set to be established is meant to solidify PKK terrorists' positions east of the Euphrates.
A special force of over 1,300 soldiers and trainers are operating on behalf of the U.S. in PKK-occupied regions.
American rapid reaction forces are also present in the Aleppo countryside city of Manbij, which is designated as a "red line" by Turkey.
There are several operational airports in Syria's northeastern regions, and regular flights are scheduled daily to and from Damascus and the Lebanese capital of Beirut from the Qamishli airport.
Sealing a 49-year-long mandate
By working to displace people in northern Syria, the U.S. has effectively mandated the regions to Russia for 49 years.
Russia's parliament has recently authorized an agreement to operate Russian military police forces in Syria, which also includes the establishement of a new Russian naval base on the mediterranean.
The agreement also states that Russia's existing bases in Syria will be reinforced and strengthened, in addition to guaranteeing Russia's right to establish new bases in Syria without consulting the regime in Damascus.
Same scenario from PKK
In order to divide Syria, PKK terrorists are attempting to alter the demographics of the regions under their occupation. They aim to replicate the same strategy they applied in Tal Abyad after taking control of Raqqa, following the current operation.
PKK terrorists will not permit Raqqa's residents who fled their city, due to the intense fighting with Daesh, to return to their homes once the operation concludes.
Many houses in the region were looted and burned by PKK terrorists, according to reports which confirmed that these actions have been carried out with the approval of American soldiers.
PKK terrorists threatened Syrian residents who refused to leave their homes that "their coordinates will be given to the U.S.-led coalition as Daesh targets to be bombed."
A report in March, 2017 by the UN put the number of refugees who have fled the war in Syria at five million, with millions more displaced internally since the conflict in Syria began in 2011.