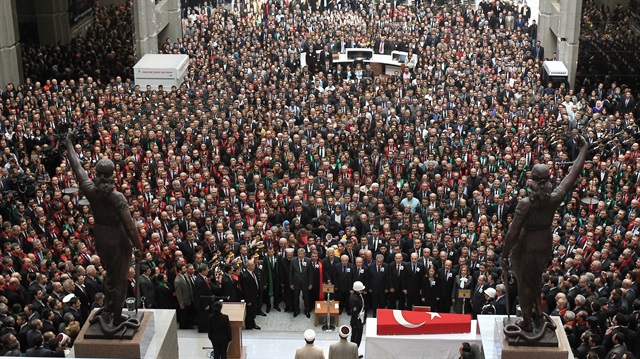 Funeral ceremony for Turkish prosecutor
Thousands of people on Wednesday attended the funeral ceremony of prosecutor Mehmet Selim Kiraz, who was killed by the terrorist organization named the Revolutionary People's Liberation Party-Front (DHKP-C) after taken hostage in Istanbul's Çağlayan courthouse on Tuesday, March 31.
Turkish Prime Minister Ahmet Davutoğlu also attended Kiraz's funeral ceremony along with Parliamentary Speaker Cemil Çiçek, Deputy PM Numan Kurtulmuş, Former President Abdullah Gül and many other state officials.
Mehmet Selim Kiraz, 46, was the prosecutor of the case of Berkin Elvan, who was critically injured during 2013's Gezi Park protests and died in March 2014 after slipping into a coma for 269 days.
Two terrorists took Kiraz hostage on Tuesday, March 31, in Istanbul's Çağlayan courthouse at 12:30. Istanbul police chief said at around 16.30 local time that negotiations were under way with the two assailants.
The police had launched the operation around 9:00 p.m. after gunshots were heard in the building. During the operation, the two terrorists were killed and Kiraz also lost his life.
A photograph published through the terrorists' twitter account showed that the prosecutor had been taken hostage by a masked man with a pistol in his hand.
Teenager Berkin Elvan was heavily injured during the Gezi Protests in Istanbul's Okmeydanı district on June 16, 2013. He died after 269 days in a coma in an Istanbul hospital.
8 years ago