Thousands of people performed prayer on the 563rd anniversary of the Conquest of Istanbul as part of an event held by the Anatolian Youth Association in front of Hagia Sophia of Turkish province of Istanbul.
The prayer was performed by Murat Mustafa el-Hasan, a Hedjaz imam, and the prayer was followed by slogans for the opening of Hagia Sophia.
The head of Anatolian Youth Association, Salih Turhan, said that they are hoping to perform prayers inside Hagia Sophia.
"Hagia Sophia, which was turned into a museum in 1934, should serve as a mosque again because the decision was fait accompli without public's will," he said.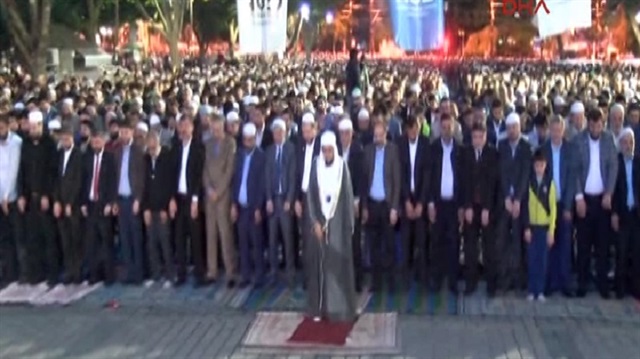 "Demanding Hagia Sophia to be used as a church is as nonsense as claiming Istanbul is not a Turkish city but a Byzantine city," he said.
The head of Istanbul district of Anatolian Youth Association, Ali Uğur Bulut, said that they are celebrating the conquest with longing for Hagia Sophia.
"Keeping Hagia Sophia closed is becoming the target of 80 million Muslims' curse. Hagia Sophia will be opened again," Bulut said.
Originally built as a Christian basilica in the 6th sixth century during the Byzantium Empire, Hagia Sophia is currently on the list of UNESCO World Heritage sites. It was a church for 916 years.
Hagia Sophia remained a keystone of Orthodox Christianity until 1453, when Istanbul was conquered by the Ottoman Turks under Sultan Mehmet II. Sultan Mehmet ordered the Hagia Sophia to be converted into a mosque as a symbol of Ottoman victory, and it served as a mosque for 482 years. It was converted into a museum in 1935.