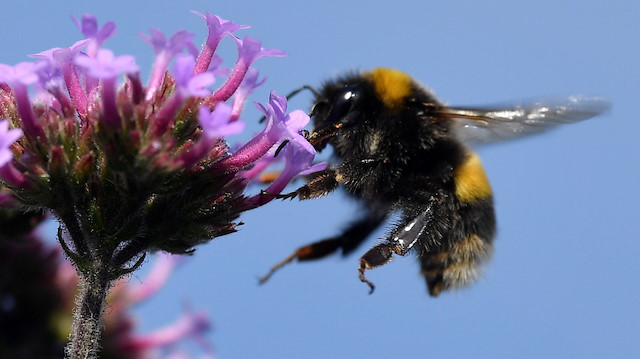 The world marked Bee Day on Monday amid the increasing human threat to global bee populations, which are important to food security and the elimination of hunger.
Upon Slovenia's proposal, the UN designated May 20 as World Bee Day in 2017 in a bid to raise awareness to threats to bee colonies and other pollinators caused by the increased use of pesticides, colony collapse disorder and climate change.
Pollinators allow reproduction and contribute to food security, which is essential to conserving biodiversity -- a cornerstone of the UN Sustainable Development Goals.
According to Earth Day Network, a U.S.-based environmental non-profit, there are 369,000 flowering plant species, and 90% of them are dependent on insect pollination. Crops pollinated by bees make up 35% of global food production valued at an astonishing $577 billion.
Experts say a honeybee can visit 50-1,000 flowers in one trip.
Earth Day reports that there are more than 20,000 distinct bee species around the world. However, beekeepers, primarily in the U.S. and Europe, have been reporting annual hive losses of 30% or higher, "substantially more than is considered normal or sustainable".
- Bee farming in Turkey
Ankara University in Turkey organized an event Monday that brought together industry professionals, academics and apiarists who discussed the problems of beekeeping today and measures that need to be taken for ensuring its sustainable growth in the years to come.
Zekeriya Ozdurmus, director of Animal Farming at Turkey's Agriculture and Forestry Ministry, said Turkey is home to 12,000 types of plants, of which 3,000 are endemic, and that it poses great potential for bee farming.
Ozdurmus added that with over 8 million beehives and more than 100,000 tons of honey produced annually, Turkey holds an important place in global bee farming.
"We still have a long way to go. Our bee farming centers in the provinces of Izmir, Ardahan and Ordu are working to bring production to satisfactory levels," said Ozdurmus.
Ozdurmus also said "sensitivity" and "planning" as well as "cautious pest control and spraying" are the key elements of combatting bee deaths.
Ziya Sahin, president of the Turkish Beekeepers Association, said Turkey is the home of pine honey and has the potential to produce honey nine months in a year.
"Turkey is a paradise of honey and bee farming. Given the importance of education and food for future generations, it is a very strategic industry," said Sahin.
- Why May 20?
May 20 is the birthday of Anton Jansa, a Slovenian apiarist who pioneered modern beekeeping techniques in the 18th century.