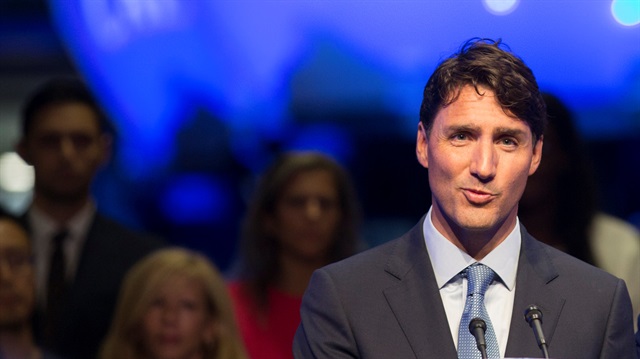 Canada will not apologize to Saudi Arabia for speaking out on the kingdom's jailing of human rights activists, Prime Minister Justin Trudeau said Wednesday.
"Canadians have always expected our government to speak strongly, firmly and politely about the need to respect human rights around the world," he said, addressing reporters in Montreal. "We will continue to stand up for Canadian values and human rights. It is something that I will always do."
Trudeau said Foreign Minister Chrystia Freeland had a lengthy talk with her Saudi counterpart on Tuesday, but he did not reveal details of the conversation.
Presumably it was to discuss the brouhaha that erupted after Global Affairs Canada tweeted Friday that Saudi Arabia should "immediately release" two women's rights activists and other "peaceful" activists languishing in the kingdom's prisons.
Trudeau added that dialogue with the Saudis is ongoing.
"Diplomatic talks continue," Trudeau said, "but as the minister (Freeland) has said, and as we will repeat, Canada will always speak strongly and clearly, in private and in public, on questions of human rights."
Saudi Arabia said Canada has no right meddling in the kingdom's affairs and wants an apology.
Since the Global Affairs criticism, it has recalled its ambassador to Canada, expelled the Canadian ambassador, froze new trade deals, ordered about 16,000 Saudi students to leave Canadian schools, told Saudi patients to get out of Canadian hospitals, stopped barley and wheat imports, and is selling off its Canadian assets. It has also cancelled all flights between the two countries.
Analysts said the move is calculated to be a lesson to other countries that there are consequences if you meddle in Saudi domestic affairs, which probably accounts for the fact that Canada's allies – in particular the U.S. and U.K. – have so far refused to support Canada.
That led to a terse tweet from former Ontario premier and federal member of parliament Bob Rae on Tuesday.
"The Brits and the Trumpians run for cover and say 'we're friends with both the Saudis and the Canadians' – thanks for the support for human rights, guys, and we'll remember this one for sure. Saudi reaction is over the top."
The Saudis are the largest buyers of military hardware in the world and it counts several Western countries as suppliers, including the United States, Great Britain and ironically, Canada.