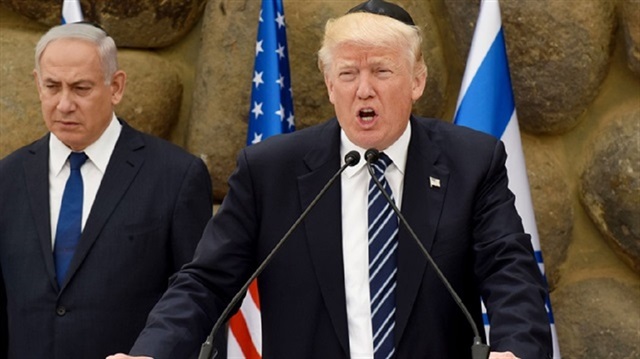 U.S. President Donald Trump promised the most powerful pro-Israel lobby group, the American Israel Public Affairs Committee that the U.S. embassy would be moved from Tel Aviv to Jerusalem in March 2016 and then received a $20 million donation for his presidential campaign from Sheldon Adelson. The Adelson's are leading donors to pro-Israel groups.
"We will move the American embassy to the eternal capital of the Jewish people, Jerusalem," he told the lobby.
The New York Times detailed Trump's Jerusalem pledge to various pro-Israel lobbies and supporters. A mere 10 days prior to taking office, Trump hosted Sheldon Adelson for a private meeting. After the meeting, Adelson told Morton Klein, the president of the Zionist Organization of America, that the embassy would be moved to Jerusalem.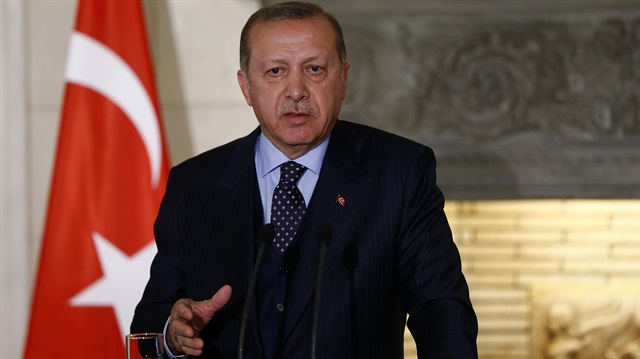 The U.S. president is required to move the embassy from Tel Aviv to Jerusalem under a 1995 law unless a waiver citing national security concerns is renewed biannually. Trump reluctantly signed the waiver in June, and Jared Kushner, who heads Trump's peace initiative, said the embassy move could have widespread repercussions in the region.
Adelson and other Israel supporters were irritated, and pressured Trump on the issue during a private White House dinner in October. Adelson has been in close contact with Trump since the president moved into the White House.
Tony Perkins, president of the Family Research Council, said evangelical Christian groups also pushed for the move. "In the meetings I was in, it was clearly communicated that evangelicals and Bible-believing Christians see a special relationship with Israel," he said.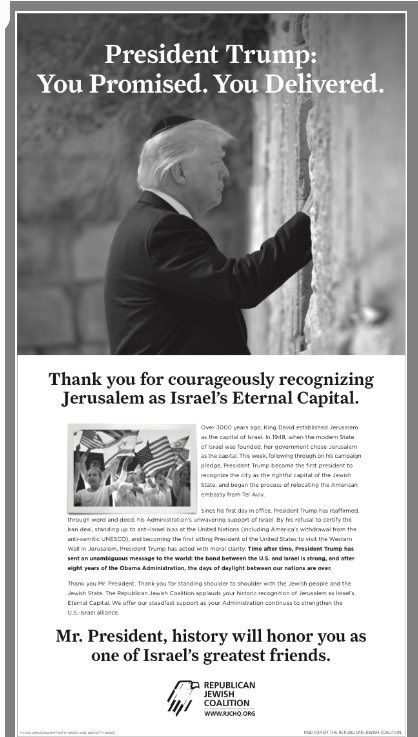 The Republican Jewish Committee bought a full-page advertisement in the New York Times that was published on Thursday. Trump is pictured praying at the Western Wall, and reads "President Trump: You promised. You delivered."
During his presidential campaign last year, Trump repeatedly promised to relocate the embassy and acknowledge Jerusalem as Israel's capital.
Despite widespread international opposition, Trump on Wednesday announced his decision to recognize Jerusalem as Israel's capital and said preparations would begin to move the U.S. Embassy there.
"While previous presidents have made this a major campaign promise they failed to deliver. Today, I am delivering," he said.
The declaration sparked demonstrations in the occupied Palestinian territories as well as Turkey, Egypt, Jordan, Tunisia, Algeria, Iraq and other majority-Muslim countries.
Jerusalem remains at the heart of the Israel-Palestine conflict, with Palestinians hoping that East Jerusalem, now occupied by Israel, might eventually serve as the capital of a future Palestinian state.