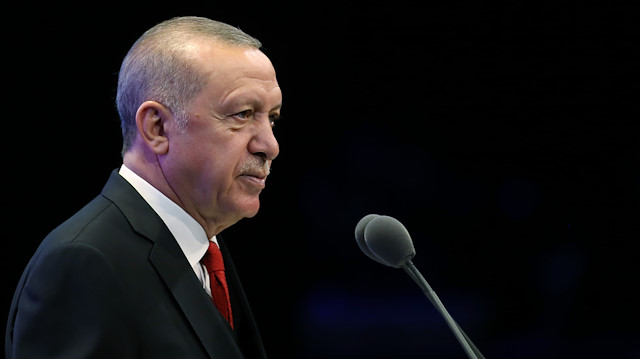 Turkey's reflexes under its current presidential system are quicker as well as more effective and comprehensive in responding to regional and global crises, the country's president said on Tuesday.
"The presidential system of government is the only administrative reform carried out directly by the people's will in our 200-year quest for democracy," Recep Tayyip Erdoğan said at a special Cabinet meeting looking back at the last two years under Turkey's presidential system, adopted in the wake of a 2017 public referendum.
Erdoğan added that he would willingly change course if a better and more effective system of government were found, stressing that "growing pains" were inevitable as the country made corrections in many areas from politics to society.
He reiterated that Turkey did not seek to violate the rights of other countries, but instead would continue to protect its own rights.
Turkish voters opted to shift to a presidential system in an April 2017 referendum. In June 2018, Erdoğan was re-elected president, Turkey's first president under the new system.
- Coronavirus pandemic
On the coronavirus pandemic, Erdoğan said that in addition to protecting its own people, Turkey has provided healthcare products to 136 countries and four international organizations.
He added that the government was not deterred by the pandemic, as it achieved 93% of 2,384 planned actions over 180 days through the end of this June, including the worst days of the pandemic.
Turkey has reported 220,572 coronavirus cases, 203,002 recoveries and 5,508 fatalities so far, according to figures compiled by the US' Johns Hopkins University.
Recent months have seen declining numbers of daily cases, almost falling below the number of recoveries -- a key benchmark -- and Turkey has been relaxing measures against the virus and moving towards normalization.
- Fight against terrorism
On Turkey's fight against terrorism, Erdoğan said over the last two years the country has carried out more than 243,000 operations against the terrorist group PKK.
"We neutralized a total of 2,354 terrorists in anti-terrorist operations," he said, adding that the number of terrorists in Turkey dropped below 400.
In its more than 30-year terror campaign against Turkey, the PKK -- listed as a terrorist organization by Turkey, the US and the European Union -- has been responsible for the deaths of nearly 40,000 people, including women, children, and infants.
Erdoğan also stressed that the country also carried out 17,000 operations against the Fetullah Terrorist Organization (FETÖ), the group behind the 2016 defeated coup.
Underlining that Turkey has substantially rooted out all of FETÖ's structures from bureaucracy to the business world, he said the country continues to clear out the rest.
FETÖ and its US-based leader Fetullah Gulen orchestrated the July 15, 2016 defeated coup, which left 251 people martyred and nearly 2,200 injured.
Ankara accuses FETÖ of being behind a long-running campaign to overthrow the state through the infiltration of Turkish institutions, particularly the military, police, and judiciary.