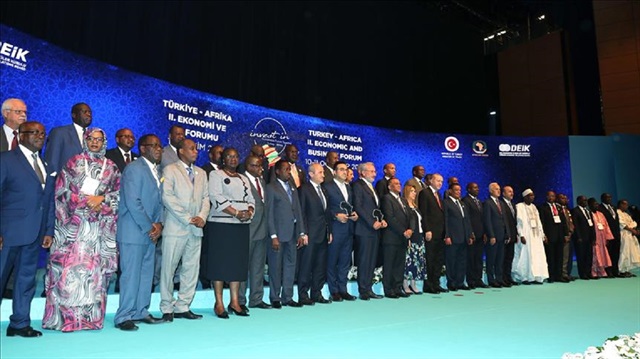 Turkey-Africa Economy and Business Forum
Turkey and African countries on Thursday signed a joint declaration with a view of enhancing lasting partnership between parties for development and economic integration.
According to the declaration, Turkey-Africa Economy and Business Forum emphasized diversified Turkey-Africa partnership.
The two-day forum, which started on Wednesday in Istanbul, brought together 3,000 African and Turkish businesspeople.
The forum was organized by Turkey's Trade Ministry and the African Union in coordination with Turkey's Foreign Economic Relations Board (DEIK).
Turkish side showed its willingness to further strengthen the economic and commercial ties with African countries, the declaration said.
The next forum will be held in 2020, it added.
The declaration recommended to launch a joint action plan to examine possibilities of removing tariffs and obstacles to trade while protecting "sensitive sectors" of African countries.
Private sector's activities in both sides should be supported in order to foster mutual investment and trade in each other's countries, it said.
Turkey and African Union decided to form a partnership in design, inspection, financing and management of projects to reduce energy costs and increase access to electricity, drop transport costs, boost intra-African trade, ensure water and food security and increase global connectivity.
It added that participating countries will take necessary measures to encourage Turkish and African enterprises as well as financial institutions to expand investment and participate in infrastructure projects through various means, such as Public-Private Partnership and Build-Operate-Transfer.
Mutual investments to build more diversified economies both in Turkey and in Africa will be encouraged, it said.
The declaration noted that private sector's investments in areas such as agriculture, electricity production, transmission and delivery facilities, aviation, maritime, education and health were prioritized for development of small and medium size enterprises.
The declaration called on Turkish and African financial institutions to enhance their cooperation, including opening more branches in their respective countries.
#
Turkey's Foreign Economic Relations Board (DEIK)
#
Turkey-Africa Economy and Business Forum
4 years ago