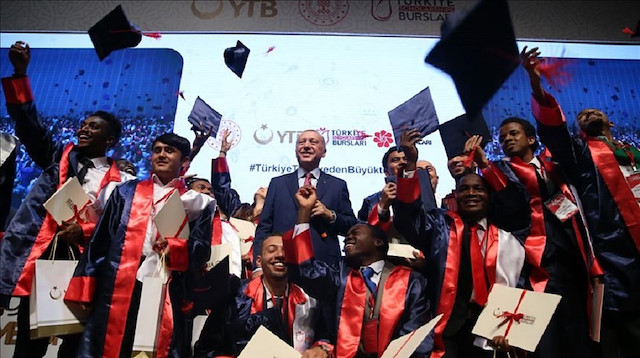 Turkey aims to increase the number of foreign students studying in the country, the Turkish president said on Wednesday.
"Our goal is to increase international students [in Turkey] to 200,000 until 2023," Recep Tayyip Erdoğan told at a graduation ceremony of the Turks Abroad and Related Communities (YTB).
Turkey hosts nearly 150,000 international students, according to the head of Turkey's Council of Higher Education, Yekta Sarac.
"We see you as Turkey's 'envoys' when you return to your home countries," Erdoğan added, addressing international students studying in Turkey.
Women-only universities
Erdoğan called for the establishment of women-only universities in Turkey, pointing to Japan, which he said has 80 such higher education institutions, out of a total of 800.
Asking Turkey's higher education board to work on a similar system, he said this would be "important" for Turkey.
"Turkey should take a similar step," he said.
Erdogan visited Japan last week to attend the G20 Leaders' Summit in Osaka, where he met world leaders of 19 countries and the EU.
He also noted that there were two universities, 269 schools and 35 dormitories operating abroad via Turkey's Maarif Foundation.
Turkey's Maarif Foundation establishes schools and education centers outside of the country.
He added that many non-governmental organizations have similar initiatives both inside and outside of the country.