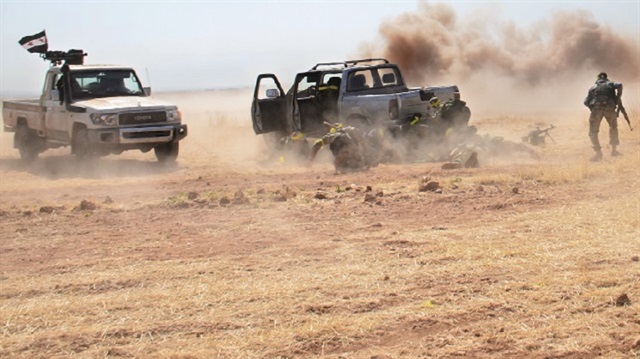 Certain interest groups, running a proxy war in Syria, have reportedly orchestrated a terror plot, making it look like a Daesh strike, in Gaziantep on the eve of a Turkey-backed operation to Jarablus, so as to prevent PKK's off-shoot in Syria from expanding the Kurdish federal system, declared in mid-March, reports said.

Turkey and Syrian moderate opposition groups will embark on a fresh campaign in a joint attempt to divide the terror corridor which has been established by the Democratic Union Party (PYD) in northern Syria, along the border with Turkey.

Over 500 opposition fighters from moderate groups, including Sultan Murad, Ahrar al-Sharq and Liwa Ahrar, are already poised for the joint operation which aims at uprooting Daesh from Jarablus town in Aleppo before the Syrian Kurdish militia take control in the town, situated just on the other side of Turkey's Karkamış border crossing.

Turkey-backed fighters, with air support, will surrond the town, still controlled by Daesh. Turkish howitzerts will stay alert on the border with Syria during the offensive.

If PYD's Saleh Muslim takes control of Jarablus, he will also take a full control along the 500 km-long stretch of the Turkish-Syrian border, which he already controls a 400 km-long stretch. This strategy means a major concern for Turkey. Jarablus, which lies on the western bank of the Euphrates, is a key point combining the non-contiguous zones in the territory that Kurds already hold in northern Syria.

As part of a U.S.-backed strategy, PYD and its allied forces in Syrian Democratic Forces (SDF) need to seize Jarablus and move to the western side of the Euphrates in order to reach the Azaz-Marea line by crossing a 90-km long line from Jarablus to Marea. The SDF, composed mainly of Kurds, have ensured "almost complete control" in Munbij town in the first week of this month. Local groups said US-backed fighters already control 90 percent of the Daesh stronghold in north of Syria. Munbij is a key to rthe advance to Raqqa.

PYD and its allied forces are expected to run over al-Bab, which is currently seen as the last target to be seized, before advancing to Jarablus to enforce a strategy to expand the US-backed Kurdish federal system, declared on March 17 in the areas that Syrian Kurdish partied control. The Turkey-backed operation will reportedly began in weeks in advance as PKK's Syrian off-shoot PYD enforced "almost full control" in Aleppo's Munbij town two weeks before.

Meanwhile, Daesh has accelerated its move to cede control of its strategic town of Jarablus to the SDF without firing even a shot, in an apparent U.S.-backed strategy aiming to enlarge the footprint of PYD's leader, Saleh Muslim, in the Kurdish federal system in Syria. Syrian Turkmen groups said the opponents' accomplishment to retake al-Rai town (Çobanbey) is another reason which accelerated Daesh's withdrawal from Jarablus. Al-Rai is strategically important as it is a point equidistant to Azaz, Marea, Jarablus and Munbij towns. It is close to the Turkish border and is a key supply route into the territory where Daesh began withdrawing without fighting.

According to analysts, Daesh's move seems to be a second part of Washington's plan to give territories, which have been seized by Daesh in the past, back to Syrian Kurds. Not only Daesh but also PYD have pulled out its senior fighters from Jarablus after the moderate opposition groups seized al-Rai town (Çobanbey) in east of Azaz town. The fighters including field commanders have moved to al-Bab town. Syrian Turkmen groups said the accomplishment to retake al-Rai town is another reason which accelerated Daesh's withdrawal from Jarablus.

Terror at wedding acts as catalyst for preventing Turkey-backed operation

For this operation, the governor's office in Gaziantep has imposed a temporary security zone in an area of approximately 10 kilometers on the border with Syria. The decision was made just a day before Saturday's suicide bombing at an outdoor wedding party in Gaziantep that has left 54 dead 94 others injured.

The security zone, imposed in the area between the villages of Türkyurdu and Beşkılıç, two villages in Gaziantep, bordering Syria.Cars and pedestrians have been banned from crossing into this zone for 15 days in pursuant to the Article 32/A of a law, regulating the country's military forbidden zones and security zones.

The terror attack, seemed to be related with Daesh, has coincided with the final stage of preparation for the Turkey-backed offensive in Jarablus. Analysts has designated the attack as a well-constructed plot which was hatched so that PYD will gain time as recovery will taken long time after heavy Russian air strikes death a major blow to its military positions. Analysts say some circles have actually planned to make it look like a Daesh strike against Turkey in order to mount outrage against Syrian refugees, who fled their home due to the prolonged war, with the aim of exposing Turkey to the deep ethnic fault-lines.