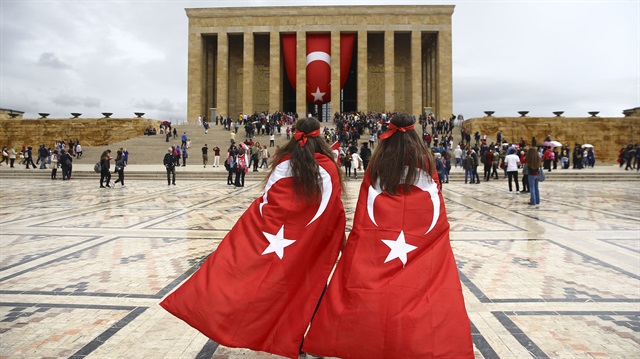 Turkey marked the Atatürk, Youth and Sports Day on Friday with various events across the country.
Official ceremonies were held in parliament and Anıtkabir, the mausoleum of Atatürk.
Many young people from across Turkey came to Anıtkabir to participate in the ceremony.
The youth will be welcomed by President Recep Tayyip Erdoğan at the Presidential Palace Complex, and by the Prime Minister Binali Yıldırım at the Çankaya Palace Complex on Friday afternoon.
"We give great importance to our young people, whom we see as the guarantors of our future, to understand the May 19 spirit, to absorb it and protect it," Recep Tayyip Erdoğan said in a statement.
"We have been working hard for the last 14 years to train young generations with high self-confidence, national consciousness, character-wise," Erdoğan added.
Friday is the 98th anniversary of the start of the War of Independence after Mustafa Kemal Atatürk, the founder of the Republic of Turkey, traveled from Istanbul to Samsun in 1919.
Atatürk landed in Samsun to mark the beginning of a political and military resistance of the Turkish people against the partitioning of the Ottoman Empire.
Once the war ended in 1923, Atatürk dedicated May 19 to the nation's youth.