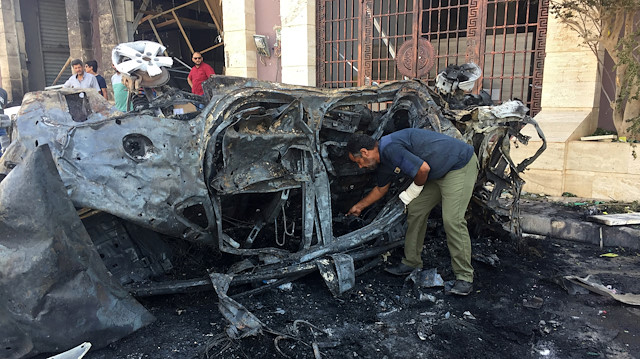 Turkey on Sunday condemned a deadly terrorist act in front of a shopping mall in the eastern Libyan city of Benghazi.
"We have received the news with great sorrow that a car bomb attack that took place in Benghazi yesterday claimed the lives of two UNSMIL [United Nations Support Mission in Libya] staff and left many people wounded," a statement issued by the Foreign Ministry said.
The ministry also conveyed the condolences to the families of the victims and wished speedy recovery to the wounded.
"We will continue to support the UN's efforts for lasting peace, security and stability in Libya," it added.
The UN said on Saturday that three UN staff members were killed in a car bomb attack, adding that the Security Council met in an emergency session later in the day in New York and honored their "ultimate sacrifice".
It also added that another three workers were injured.
UN Secretary General Antonio Guterres also condemned Saturday's attack "in the strongest terms" and extended his "deepest condolences" to the bereaved families in a statement issued by his spokesman Stephane Dujarric.
Ghassan Salame, the UN Special Representative for Libya, said in a statement that the staff members who died and were injured in an attack served with the UN Support Mission in the country.
He also confirmed that "scores of civilians" were also injured by the explosion.
"This cowardly attack, which comes at a time when Libyans are out shopping in preparation for the Eid al-Adha, serves as another strong reminder of the urgent need for Libyans to stop fighting, set aside their differences, and work together through dialogue, and not violence, to end the conflict", Salame said.
Libya has remained beset by turmoil since 2011, when long-time ruler Muammar Gaddafi was ousted and killed in a bloody NATO-backed uprising after four decades in power.
The oil-rich country has since seen the emergence of two rival seats of power: one in eastern Libya, with which Haftar is affiliated, and the Tripoli-based GNA, which enjoys UN recognition.