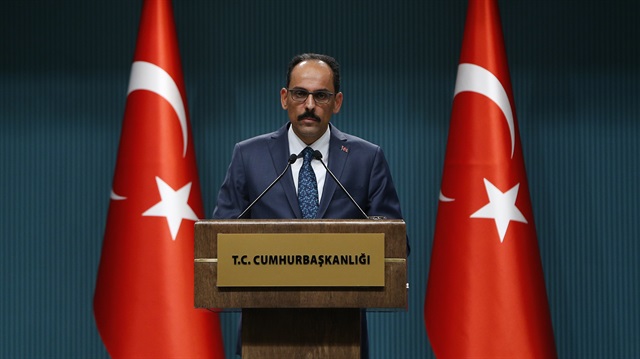 Turkish President Tayyip Erdoğan's spokesman said on Wednesday he expected problems with the United States to be resolved but Washington must stop trying to influence Turkey's judiciary.
İbrahim Kalın stated that Turkey didn't want an economic war with the U.S., but that staying silent when it was being attacked was out of the question.
Ibrahim Kalın also told a news conference that Turkey would exercise its rights if the U.S. does not deliver F-35 jets to Ankara. The lira, which has rallied after hitting a record low of 7.24 to the dollar, would continue to recover, he said.
"There were no talks planned between President Erdoğan and President Donald Trump", Kalın added.
Kalın also said a news conference that Turkey will take a positive stance towards trading in national currencies to escape from U.S. dollar pressure.
Ibrahim Kalin also expressed Turkey's "deep disappointment" over the U.S. stance on the detention of American pastor Andrew Brunson and said "If we are to mention any disappointment, we can say that Turkey is experiencing a deep disappointment in terms of its national interests," to reporters at a weekly press briefing at the Presidential complex in capital Ankara.
His remarks came after the White House spokeswoman expressed Washington's "frustration" regarding the Brunson case.
Sarah Sanders said: "Certainly the President has a great deal of frustration on the fact that Pastor Brunson has not been released, as well as the fact that other U.S. citizens and employees of diplomatic facilities have not been released.
"And we're going to continue to call on Turkey to do the right thing and release those individuals," she added.
Criticizing the U.S. administration, Kalin said: "As they are taking relations with Turkey to a breaking point for one pastor, we have yet to see either the Obama or the Trump administration take any concrete steps towards Turkey's rightful and urgent national security matters."
Turkey and the U.S. are currently experiencing rocky relations following Washington's imposition of sanctions over the detention of American pastor Andrew Brunson, who is under house arrest in Turkey over terrorism charges.
Brunson's charges include spying for the PKK -- listed as a terrorist group by both the U.S. and Turkey -- and the Fetullah Terrorist Organization (FETO), the group behind the defeated coup attempt in Turkey of July 2016.