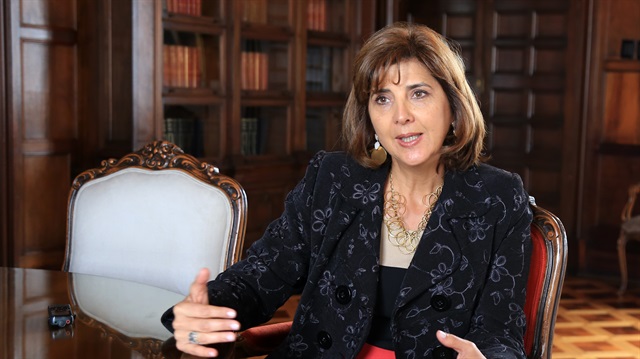 Turkey has given tremendous support for Colombia's bid to join the Organization for Economic Co-operation and Development (OECD), a bid which is now bearing fruit, said a former top Colombian official on Friday.
Speaking to Anadolu Agency in Bogota, Former Foreign Minister Maria Angela Holguin Cuellar praised Turkey as an important ally and hailed Ankara's support for his country in many areas.
"Turkey has opened its doors to know us and has given support to our OECD membership bid from the very beginning," she said in the interview.
This May OECD countries agreed to invite Colombia, which began its application process in 2013, to be the 37th member of the group.
On May 30 Colombian President Juan Manuel Santos and OECD Secretary-General Angel Gurria signed an accession agreement in Paris.
Cuellar also hailed Turkey's support for the peace process between the Revolutionary Armed Forces (FARC) and the government, citing in particular a project by the state aid agency, the Turkish Cooperation and Coordination Agency (TIKA).
"TIKA's minesweeping project in Orejon was very important for us. It also built a beautiful school in this region." "Turkey has not only supported the education of the people there but also the process of the Colombian government forging peace," she said. Colombia and FARC guerillas reached a peace deal in November 2016, ending more than 50 years of conflict between the two sides.

Refugees
The former diplomat also praised Turkey's "generosity" towards Colombia in terms of both agriculture and refugees.
"After making peace in Colombia, we mentioned to Turkish authorities that production in rural areas needs to be revived. They donated 132 kilos of 42 types of samples of Turkish cotton -- known as the best cotton in the world -- to us to use it to produce," Cuellar said.
"The issue of a residential area for Venezuelan refugees in the country is a major problem for us. The most important thing that we've learned from Turkey is a method that it applied for providing a residential area for refugees," she continued.
Turkey hosts more some 3.5 million Syrian refugees -- more than any other country in the world. The country has spent more than €20 billion from its own national resources to help and shelter refugees since the beginning of the Syrian civil war.
Stating that they asked TIKA's help to provide shelters for refugees in some regions, Cuellar said: "I hope they will help us with this because they're very experienced and work systematically."
Relations between Turkey and Colombia are developing in every area, according to the Turkish Foreign Ministry.
It called the 2011 visit to Turkey of Colombian President Juan Manuel Santos and Turkish President Recep Tayyip Erdogan's 2015 return visit to Colombia "milestones" in bilateral relations.
During Erdogan's visit, cooperation agreements in the areas of the defense industry, tourism, and agriculture were signed.
Turkey established an embassy in Bogota in 2010, and Colombia opened an embassy in Ankara the next year.