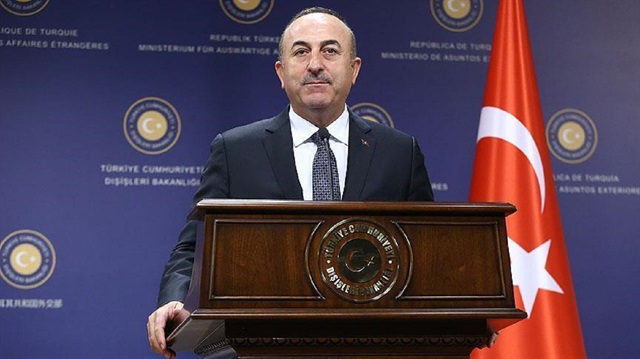 Foreign Minister Mevlüt Çavuşoğlu on Wednesday called on Germany to extradite Fetullah Terrorist Organization (FETÖ) members to Turkey.
In a televised interview to private news channel Haberturk, Cavusoglu said: "If Germany does not return Adil Oksuz to us, then it will be in the same position as the U.S. that does not extradite FETÖ leader [Fetullah Gulen]."
"There is some activity in the U.S. [over the extradition of Gulen], but whether it is Germany or other countries, they must all return these traitors who plotted a coup in Turkey; these people must face justice."
The foreign minister's remarks came shortly after witnesses told Anadolu Agency on Wednesday that Turkey's most wanted coup suspect Adil Oksuz stayed at a small apartment in Berlin early this year under the protection of FETÖ members.
Oksuz, a theology lecturer accused of masterminding Turkey's July 15, 2016, defeated coup, has been on the run for almost two years.
Cavusoglu also said they had officially contacted German authorities regarding Oksuz.
"We of course have an agreement with Germany. This person is a putschist and Germany is very well aware of it. Thus, if he is caught, then the extradition process will begin," he said.
In Germany, which is home to more than three million Turkish immigrants, FETO has a large network with dozens of private schools, businesses and media organizations.
Since the 2016 defeated coup, nearly 4,000 FETO suspects have come to Germany from Turkey and other countries, according to local media reports.
Several FETÖ suspects, including former soldiers and diplomats, have applied for asylum in various German federal states.
Turkey in contact with Iran over Qandil operation
Turkey is in contact with Iran about conducting a possible military operation against Kurdistan Workers Party (PKK) terrorists in the northern Iraq region of Qandil, close to the Iranian border, Turkish Foreign Minister Mevlüt Çavuşoğlu said.
"We are in contact with Iran," Çavuşoğlu told broadcaster Habertürk. "PKK is a threat to them as well. Qandil is very close to the Iran border...We will improve cooperation with Iran."