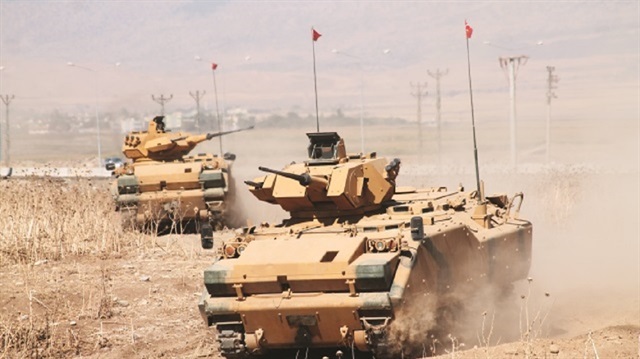 The level of the joint Turkish- Iraqi military drills in Şırnak- Silopi increases with every passing day, and with the 17th day of exercises in the rearview mirror, the number of armored vehicles taking part in the drills has reached 130.
Troops destroyed enemy positions and critical facilities in fierce clashes as a part of the ongoing military drills.
At the site of the drills, a tactical deployment of mechanized infantry was carried out in the region.
In case of a possible operation in northern Iraq, Turkish and Iraqi troops prepared by taking part in drills simulating critical deployment measures in hostile areas, in addition to training against enemy attacks and ambushes.
Turkey's military drills were launched three kilometers away from the border in the southeastern Silopi region in the early hours of Sept. 18, a week before the Kurdistan Regional Government's (KRG) non-binding independence referendum.
Iraqi soldiers arrived in Turkey on Sept. 23 for joint military exercises due to be carried out the following day in Habur.
Drills supervised by General İsmail Metin Temel
Commander of the 2nd Army General İsmail Metin Temel supervised the military exercise held at night in Silopi. During the nightly training witnessed by Temel, Sabra Tanks were deployed from their positions to perform "unplanned maneuvers."
Performed for the fourth time and with the participation of 10 tanks, armored vehicles took part in maneuvers that subjected them to possible nightly attacks.
Turkish and Iraqi troops received defensive training against nightly attacks at staff quarters in the context of the ongoing drills.