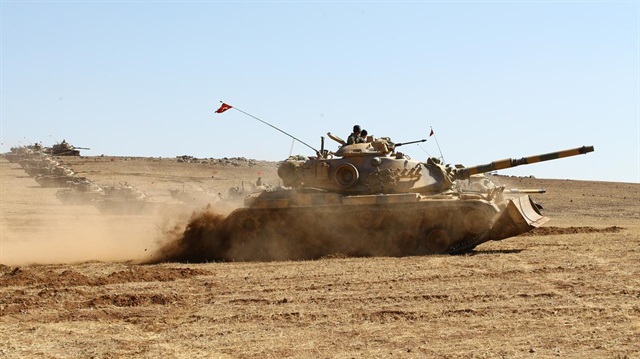 Turkish Defense Minister Ismet Yılmaz said on Sunday that Turkey is not thinking about sending its ground forces into Syria.
Yılmaz's remarks comes amid ongoing tension on the Turkey-Syria border as the Turkish military continued artillery fire on the Democratic Union Party (PYD) targets in Syria for a second day.
Turkey said it fired inside Syria according to the rules of engagement to retaliate against an attack on its border from PYD-held areas in Azaz town of northern Aleppo.
Following the military attack, some international media outlets wired reports that Turkey's ground forces entered into Syria at the weekend.
"It is not true," Defense Minister Yılmaz said during his speech to a Turkish parliamentary commission. He added that Turkey is not considering sending ground troops into Syria.
"There is no thought of Turkish soldiers entering Syria," Yılmaz said, and added that Turkish military will do everything to protect its border security.
Ankara sees PYD as a Syrian branch of outlawed Kurdistan Workers Party (PKK) terrorist group, which has been conducting terrorist activities in southeastern Turkey for more than three decades and killed at least 40,000 civilians.
YPG intends to show itself as a resistance group in northern part of Syria, which has been mired in a devastating civil war for more than five years, but Turkey said it has enough documents to prove that the group is launching ethnic cleansing in the area against Arabs, Turkmens, Sunnis and even Kurds who oppose their terrorist activities.
Ankara also said both PKK and YPG are led by the same leaders in Qandil, PKK headquarters in northern Iraq, as PYD sends weapons and militants into Turkey to PKK.
Turkish leaders repeatedly warned YPG and its supporters not advance to west crossing the Euphrates River and vowed to hit any elements that intend to cross the "red line."
For months the terrorist group stayed behind the "red line" declared by Ankara, but with the support of Russia, which supplies weapons and intelligence to the group, YPG crossed the line and advanced to the border town of Azaz, just a few kilometers away from Turkish territory.
Tensions have increased along the Turkish-Syrian border in the last few days; the Turkish army and the PYD terrorists continue to trade fire along the border.
A mortar fired from Syria hit a Turkish border post Sunday, Yilmaz said. According to the minister, the bombardment was carried out by PYD forces that hit a post in Kilis province to which the Turkish military responded with shelling.
According to Turkish media reports, the military fired at least 100 shells and killed over 40 PYD terrorist near Azaz town.
Turkish Prime Minsiter Ahmet Davutoğlu said on Sunday that the Turkish military will continue attacking PYD targets near Azaz and the airbase until the terrorists leave the area.
"PYD must leave the area immediately," he said adding that the terrorist group is trying to gain more ground by taking advantage of recent developments in the country. "It has blood on its hands," he said.
Turkish officials denied claims that Turkey and Saudi Arabia are planning to send ground forces to Syria to fight against Daesh, saying that it only can be possible along with other partners of the US-led anti-Daesh international coalition.
About claims that Saudi warplanes have arrived in Turkey, defense minister said: "At the moment they [aircraft] haven't arrived, but they [Saudis] have come for exploration."
"Four [Saudi] F-16s will come, the decision has been taken," Yılmaz said
He clarified that the Saudi jets have not arrived "today, but they can come tomorrow." He said that Turkey has allowed Saudi authorities to send their warplanes.
On Saturday, Saudi military spokesman Brigadier Ahmed al-Assiri told Al Arabiya television network that Saudi military jets have arrived in Turkey's Incirlik air base in southern Adana province to carry out missions against Daesh. He said that the aircraft will be used in joint operations against Daesh in Syria.
While answering a question about the Turkish defense industries budget plan, minister Yılmaz said Turkish state-run defense firm ASELSAN is running a domestic missile project, Hisar-A, which will be ready to use in 2020.
He also informed that Turkey has boosted the National Intelligence Agency (MIT) budget to 379 million dollars.