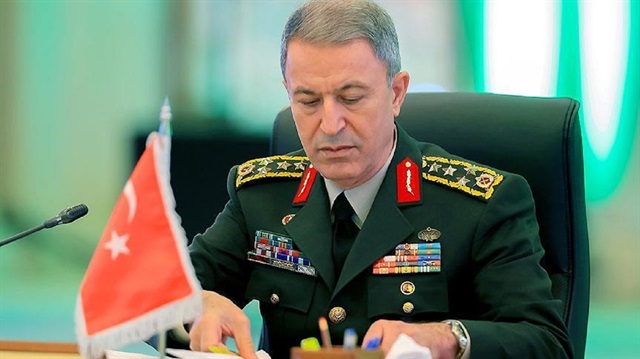 Turkish military chief Gen. Hulusi Akar
Turkey's alliance with NATO should not be undermined, Turkish military chief Gen. Hulusi Akar said on Saturday.
Speaking at the Halifax International Security Forum in Nova Scotia in Canada, Chief of General Staff Gen. Akar said: "NATO is the most successful and most effective military organization that has existed throughout history.
"Recently, in one of the NATO exercises we had an unpleasant and unacceptable event, reportedly committed by an individual who may be backed by [Fetullah Terrorist Organization] FETO members.
"NATO administrators responded timely and appropriately. We should not allow anyone to undermine our alliance and our solidarity."
Turkey withdrew its troops from a NATO military drill in Norway after President Recep Tayyip Erdogan said Friday that his name and the picture of Turkish Republic's founder Mustafa Kemal Ataturk were used in an "enemy chart".
Following the incident, NATO Secretary-General Jens Stoltenberg apologized to Turkey in a written statement as well as to Gen. Akar during a face-to-face meeting in Canada.
Gen. Akar said Turkey is one of the countries with the highest number of troops in NATO and the country has supported 14 missions of the alliance in 11 different countries.
The general also criticized Turkey's allies who were providing weapons to PKK/PYD terror group.
Allies' cooperation with PKK/PYD
"PKK, PYD and YPG are equals of each other. The PKK is listed as a terrorist organization by numerous countries.
"They may have different names but they all have the same goal.
"It was unfortunate to witness the utilization of terrorist organizations as proxies during this conflict. This has further complicated the situation.
"Some of our allies have been cooperating with the PKK-affiliated YPG in a similar fashion. They have been supporting PKK and YPG in almost all demands despite news of such acts amounting to war crimes."
He said it was disappointing to see that some allies provided weapons and ammunition to the PKK/PYD.
"I would like to underline that PKK/YPG uses these weapons against Turkish citizens and soldiers.
"Additionally, we are having a hard time to understand the ethics in fight against terrorist organization with another one. It seems a simple name change has been enough for some states.''
Referring to reports about the U.S. backing the deal allowing Daesh to leave their Syrian stronghold of Raqqah that paved the way for PKK/PYD to then takeover the city, Gen. Akar said: ''Some of our allies disregarded the dirty deal that YPG brokered with Daesh in Raqqah.
'Unbelievable' Raqqah deal
"Evacuation of Daesh terrorists from Raqqah even with their weapons, it's unbelievable.''
The general also said that Daesh had nothing to do with Islam. "Please do not forget that Daesh is also attacking Islamic countries and killing innocent Muslims without hesitation.
"Do not mix Muslims with terrorists. The key must be zero tolerance for terrorists.
"For instance, we have witnessed tragic attacks in Myanmar against Rohingya Muslims recently.
"The attackers were Buddhists; however, no one referred to them as Buddhist terrorists.''
At the end of his speech, Akar quoted Erdogan's famous words about the world being bigger than a few countries.
"As our President Erdogan has said while referring to the UN Security Council, we should remember that the world is bigger than five.
"The UN's priority must be global safety and security."
#
Chief of General Staff Hulusi Aka
#
Halifax International Security Forum
#
President Recep Tayyip Erdogan
6 years ago