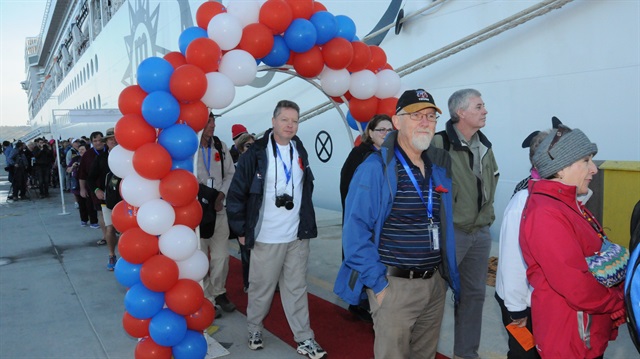 Turkey welcomed the grandchildren of the Australian and New Zealand Army Corp, or ANZAC, an army corps that had operated during the Battle of Gallipoli in 1915, with red carpet and the Mehter Team in the Çanakkale port.
A total of 2,700 people from Australia and New Zealand came to Turkey on Friday to join the 100th anniversary ceremonies of the victory of Gallipoli, a battle which marked a turnaround in favor of the Turks against the Allied Forces during World War I. The event will be held from March 23 to 25 in Çanakkale and at least 80 countries' top officials are expected to join.
The grandchildren of the ANZAC generation embarked from Australia 30 days ago on the cruise ship MSC Orchestra and reached Çanakkale port early in the morning on Friday.
The guests were welcomed by the Mehter Team, an Ottoman military marching band, and the primary school students were holding flags in their hands.
The ANZAC grandchildren will visit the ancient towns of Troy and Assos. They will also visit the ANZAC village on the Gallipoli peninsula and then will go to Istanbul and Kuşadası.
9 years ago