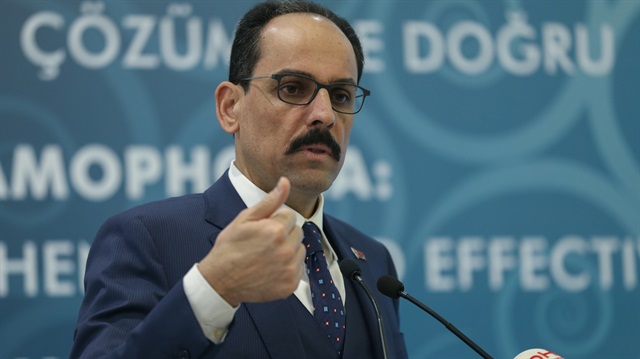 Turkish Presidential Spokesman İbrahim Kalın said on Thursday that the city center of Syria's northwestern Afrin region will be cleared of terrorists "very soon."
"Over 70 percent of Syria's Afrin region has been secured during Operation Olive Branch," pointed Kalın in a press conference on Thursday.
Kalın also revealed that Turkey has no intention to hand Afrin to the Assad regime after Operation Olive Branch is completed.
"The circle has been completely tightened around the terrorists. We predict that the center of Afrin will be completely cleared of terrorists within a short period of time. They wanted to make Afrin a new Qandil. This [desire] has been eliminated through Operation Olive Branch," Kalın said.
Iraq's Qandil Mountains have served as a headquarters for the terror group PKK.
"All the support that the U.S. administration gives to the PYD and YPG in the guise of fighting Daesh gives breath to the PKK," he said.
"Every weapon and bullet given to the PYD and YPG means the PKK grows stronger in other regions."
In its three-decade terrorist war on Turkey, the PKK has taken some 40,000 lives, including those of women and children.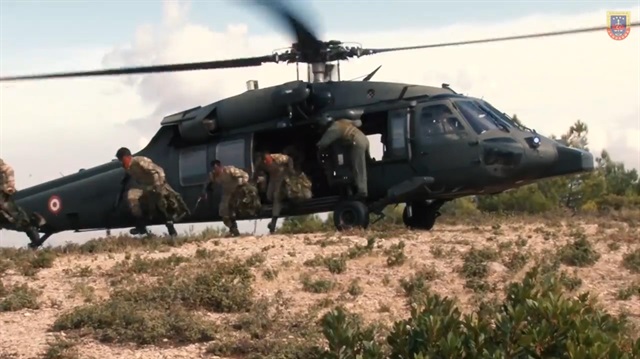 Regarding the plan to withdraw U.S.-backed PKK/YPG terrorists from Syria Manbij, Kalın said that due to the fact that newly-appointed U.S. Secretary of State Mike Pompeo was not well-informed on the issue, the plan would be delayed for one to two weeks.
The YPG is the armed wing of the Democratic Union Party (PYD), which is the Syrian offshoot of the PKK. The PKK is listed as a terrorist organization by Turkey, the European Union and the United States.
The route terrorists use to enter and exit eastern Afrin will be closed soon, Turkish President Recep Tayyip Erdoğan told a gathering of village and neighborhood heads at the presidential complex in the capital Ankara on Wednesday.
Eastern Ghouta crisis
Syria's besieged Eastern Ghouta region will continue to be a priority issue for Turkey in the coming days, Kalin said. "Our priority is stopping the airstrikes [there]."
"It is unacceptable that thousands of people are punished collectively with 300-500 terrorists there given as an excuse," he added.
Home to some 400,000 people, Eastern Ghouta has remained the target of a crippling regime siege for the last five years.
The Assad regime has stepped up its siege in recent months, preventing the delivery of badly needed humanitarian aid and leaving thousands of residents in need of medical treatment.
Last week, a UN inquiry commission released a report accusing the Assad regime of committing war crimes in Eastern Ghouta, including the use of chemical weapons on civilians, causing mass starvation, and forcibly preventing medical evacuations.