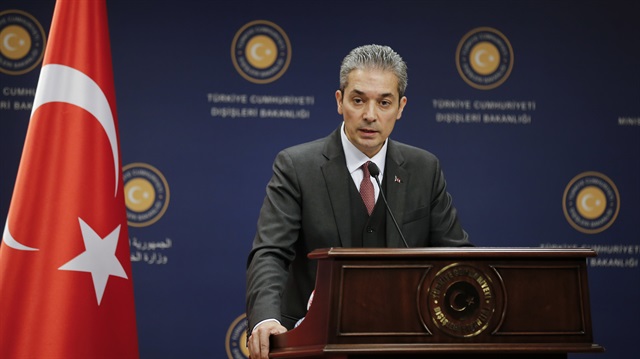 Turkey on Tuesday slammed a recent Pentagon statement backing a key terrorist YPG/PKK figure as "nonsense."
"The Pentagon spokesman once again continued to speak nonsense," Foreign Ministry spokesman Hami Aksoy told a news conference, referring to Pentagon spokesman Col. Rob Manning.
Aksoy reasserted that the PYD/YPG is an affiliate of the terrorist PKK group, adding that Manning must also know this.
"You all are well aware that the PYD/YPG is a terrorist group… Solid evidence showing that the PYD/YPG is part of PKK has been put forward. I believe the Pentagon spokesman also knows this," he said.
The U.S. has claimed the PYD/YPG/PKK is a "reliable ally" in the fight against Daesh, against strong Turkish objections that it is a Syrian affiliate of the terrorist PKK, whose 33-year war against Turkey has resulted in tens of thousands of deaths, including those of women and children.
Stressing that Turkey expects concrete steps from the U.S. to keep its promises, Aksoy said: "We want the PYD/YPG to return their weapons [to the U.S.]. These matters are to be again addressed during the meeting on March 8-9 in Washington."
Foreign Ministry Deputy Undersecretary Sedat Onal will lead Turkey's delegation at that meeting, which will address developments in Syria including Manbij, a city with a PYD/YPG/PKK terrorist presence which Turkey has pledged to end, he said.
Manning on Monday claimed that the anti-Daesh operations of the terrorist YPG/PKK-led SDF in Syria have been put on hold due to Turkey's counter-terrorist Afrin operation. He also called the leader of the YPG/PKK-led SDF, Sahin Cilo, "general," and added that the Pentagon will continue to support Cilo and the YPG/PKK-led SDF.
The PYD/YPG/PKK and Daesh are the targets of Turkey's current counter-terrorist Operation Olive Branch in Afrin, northwestern Syria, meant to protect civilians on both sides of the Turkish-Syrian border.
- Camp for 170,000
Turning to Turkey's efforts to aid Syria, Aksoy said: "We are regularly dispatching humanitarian aid, including shelter, food, and sanitary and medical supplies to the region."
The Turkish Red Crescent and Disaster and Emergency Management Agency (AFAD) have begun preparing to set up a 170,000-person capacity camp in Idlib and the Operation Euphrates Shield-liberated region, including Azaz, Albil, Tugli, Tal Afar, Naddah, Bardakli and Mashad Rufi, he added.
He said emergency preparations include the establishment of new camps in case of a large civilian exodus from Afrin.
On relations with Germany ahead of Minister Mevlut Cavusoglu's two-day visit starting today, Aksoy said: "Following the elections held [last September] in that country, we entered a constructive dialogue process. Discussions towards normalizing bilateral relations are continuing full steam ahead."
Germany and Turkey recently took steps to normalize their relations, and during his visit to Berlin on Feb. 15, Turkish Prime Minister Binali Yildirim called for a new era in relations.
Relations between Ankara and Berlin suffered several setbacks after the defeated coup in Turkey in 2016, as Turkish politicians blasted their German counterparts for failing to show strong solidarity with them against the attempted military takeover.