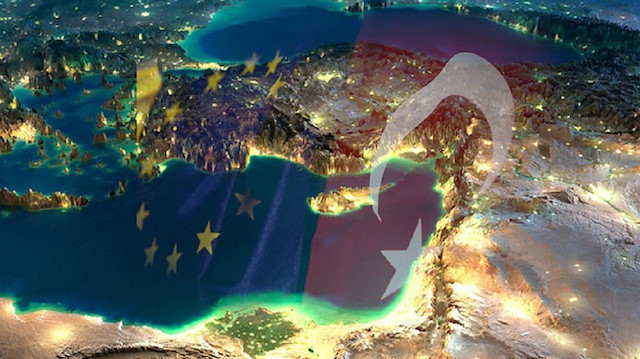 Turkey will flex its muscles in the face of any possible EU sanctions over drilling in the Eastern Mediterranean, according to a political expert, who noted that the European bloc is ignoring international rights when it comes to this issue.
Speaking to Yeni Şafak daily about the possible steps the EU might take against Turkey and what Ankara can do in response, Professor Hasan Ünal of Maltepe University's Political Science and International Relations said that Turkey will not back down on the issue without flexing its muscles.
"We mustn't forget Turkey is a member of NATO and its the second biggest in terms of military manpower. If Greek Cypriots backed by the EU and Greece continue on this course, the results will not be good for the opposite side," said Ünal.
Ünal also noted that possible steps the EU might take will not have "serious effects" on Turkey from an economic standpoint, however, he pointed that such an action will boost the morale of Greece-backed Southern Cypriots.
Turkey has consistently contested the Greek Cypriot administration's unilateral drilling in the Eastern Mediterranean, asserting that the Turkish Republic of Northern Cyprus also has rights to the resources in the area.
Turkey's top diplomat also voiced hope that the new government in Greece will help Turkey to maintain more constructive relations with Greece on the Aegean and Eastern Mediterranean.
FM Cavusoglu underscored that Turkey wants to resolve the disputes with Greece in the Aegean, instead of escalating tensions.
On the EU stance about the issue, Cavusoglu said: "If EU continues to take wrong steps on the Eastern Mediterranean and Cyprus issue for the sake of solidarity, we cannot solve this issue."
He urged that the solidarity should be based on the EU standards, criticizing the bloc's pro-Greek attitude.
Donald Tusk, president of the European Council, later on Wednesday vowed to remain in solidarity with the Greek Cypriot administration on the dispute.
"Despite our best intentions to keep good neighborly relations with Turkey, its continued escalation and challenge to the sovereignty of our Member State Cyprus will inevitably lead the EU to respond in full solidarity as agreed by @EUCO," he tweeted.