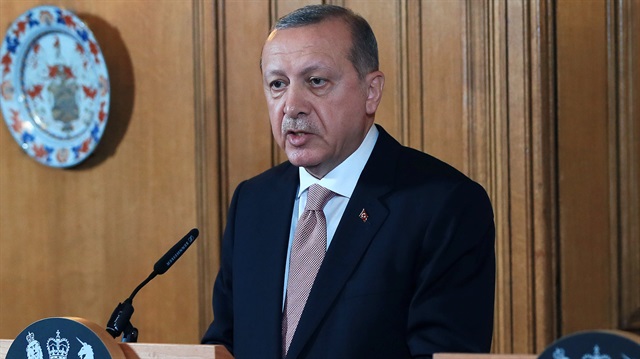 Turkey will never accept the U.S. decision to recognize Jerusalem as capital of Israel, Turkish President Recep Tayyip Erdoğan said on Tuesday.
"We will never accept US attempt to move embassy to Jerusalem and to recognize Jerusalem as Israeli capital," Erdogan said in a joint news conference with British Prime Minister Theresa May following their meeting in London.
Erdogan said the U.S. government's "indifferent policies" encouraged Israel more on occupation and violence in Palestine.
"History will not forgive you, we will see this reality; history will never forgive Israel, we will see this too," Erdogan added.
May, for her part, called for an "independent and transparent investigation to find out what happened in Gaza yesterday."
At least 61 Palestinians were martyred and thousands more injured by Israeli forces along the Gaza border Monday amid protests marking the Nakba anniversary and the relocation of the U.S. Embassy from Tel Aviv to Jerusalem.
Since the border rallies began on March 30, more than 100 Palestinian demonstrators have been killed by cross-border Israeli gunfire, according to the Palestinian Health Ministry.
Last week, the Israeli government said the ongoing border protests constituted a "state of war" in which international humanitarian law did not apply.