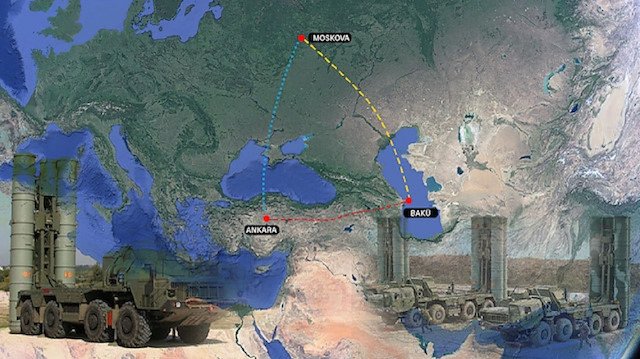 Turkey is set to send a military delegation to Azerbaijan to examine Baku's S-300 missile defense system ahead of an upcoming trip by summer's end to Russia, where a crew will receive training on operating the advanced S-400 system.
The Ministry of National Defense delegation will make an initial stop in Azerbaijan where a crew will examine Baku's S-300 PMU2 missile defense systems, before heading to Russia where Turkish servicemen will receive training from Moscow on how to operate the advanced S-400 missile system ahead of its deployment by October of this year.
Last week, Erdoğan said Turkey is facing pressure against buying S-400 air defense system, adding that the issue "is not about S-400. It is because Turkey takes action with its own will regarding the regional developments, particularly Syria."
"It is clear why Turkey is buying this air defense system and how will it use it," he added.
After protracted efforts to purchase air defense systems from the U.S. with no success, Ankara decided in 2017 to buy Russian S-400 air defense systems.
The move was criticized by the Pentagon, which warned that purchasing the S-400 would hurt Turkish-U.S. relations and Turkey's role in NATO.
Ankara is also planning to purchase 100 F-35 fighter jets from the U.S. pending congressional approval, and its pilots are currently training on the weapons platform at Luke Air Force Base in Arizona.
Turkish firms also supply the F-35 program with key components, including airframe structures and assemblies, and the center fuselages.