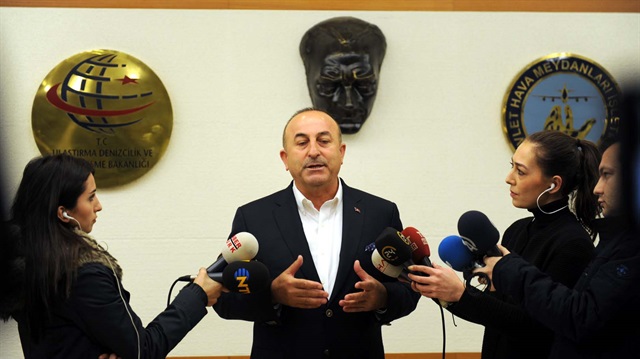 Turkish Foreign Minister Mevlüt Çavuşoğlu said Saturday that Ankara would respond 10 times stronger to the Dutch government's decision to prevent a Turkish minister from entering the country.
The comments came after the Dutch government canceled the Turkish foreign minister's flight permit and then blocked a convoy carrying the Family Minister from entering the Turkish consulate in Rotterdam.
The ministers were due to meet Turkish residents ahead of the April 16 referendum in Turkey on constitutional reform.
Çavuşoğlu said the actions by the Dutch are an attempt to attract right-wing voters in the March 15 general election.
"Which steps they take, we will take 10 times more action. We are not afraid of this, but their doings are really inhuman," Çavuşoğlu said in an interview with state-run TRT television.
.He said the government was acting more anti-immigrants and anti-Muslims than Dutch candidate Geert Wilders.
To prevent a female minister from entering "our territory, our consulate office", was shameful for Europe, according to Çavuşoğlu.
The action against Turkish ministers was against the referendum in Turkey, he said. "Because they don't want a stable, strong and more freedom Turkey," he added.
Turkey continues diplomatic initiatives with other European countries to express Ankaras reaction against the Dutch government, the minister said.
The foreign ministry has asked the Dutch ambassador in Ankara, who is currently on leave, not to return 'for a while'.
Dutch police dispersed Turkish citizens who took to the streets to protest police treatment of the Turkish family minister.
In Turkey, hundreds of demonstrators flocked to the Dutch missions in Ankara and Istanbul to protest the moves by the Dutch government.
President Recep Tayyip Erdoğan described the actions as a measure by "Nazi remnants and fascists".