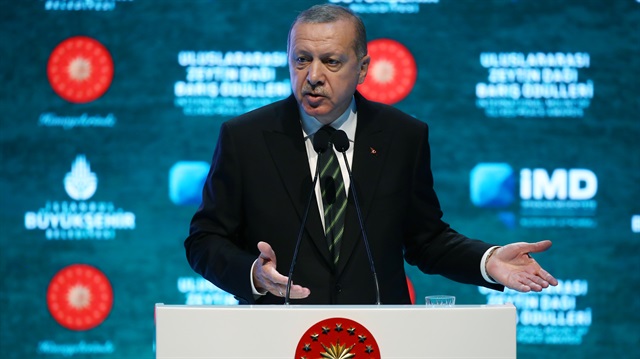 Turkish President Recep Tayyip Erdoğan hailed the upcoming June 24 presidential and parliamentary elections as an opportunity to advance the development of the country during his address of the ruling Justice and Development (AK) Party's parliamentary group meeting on Tuesday.
"The only way to actualize Turkey's 2023, 2053 and 2071 targets is with the new presidential system. We have domestic and international experience. Both I and this team [AK Party] are experienced and will speedily implement new projects," Erdoğan said.
In the framework of plans and targets, Turkey hopes to become one of the top 10 economies of the world by 2023.
"Our political understanding is based on moving forward and building Turkey up," Erdoğan said, hailing AK Party's contributions to the health, education, housing, defense, construction and transport industries.
"AK Party has been in power for 16 years and has a serious accretion and experience," he added, stating that the presidential system would enable Turkey to move forward.
Majority in parliament needed for constitutional changes
Erdoğan on Tuesday said his ruling AK Party needed a parliamentary majority after the elections to make constitutional changes until the new executive presidential system becomes fully functional.
"Aside from presidential decrees, there will be a need to make several legal changes, implement new regulations or even constitutional changes until the new system is fully functional," Erdoğan said.
He encouraged voters to give the Public Alliance formed between the AK Party and the Nationalist Movement Party (MHP) a majority in parliament.
"A parliamentary majority is important for stability and trust. Additionally, we need the numbers to implement constitutional changes for reform," Erdoğan said.
A bill passed recently enables political parties to back another party and to make electoral alliances.
Erdoğan slams French figures demanding change in Quran
The president slammed a French manifesto calling for the abrogation of the holy Quran.
"Those who said this have no idea about the Quran, this is clear. I wonder if, during their lifetime, they read their own [religious] book, the Bible or the Torah. If they did, they would probably want the Bible to be banned too. But they are not concerned with this," Erdoğan said.
"Who are you to attack our sacred texts? We will not attack your sacred texts with the same language because we are not low like you. We have a stance and character," he added.
The scandalous manifesto was published in the French daily Le Parisien on April 21, and was signed by approximately 300 intellectuals and politicians, including former President Nicolas Sarkozy and former Prime Minister Manuel Vall.
The hatefully racist manifesto has been met with outcry by Muslims in France and abroad. The manifesto wrongfully declared that the Quran incites violence, and stated that this violence is a part of "new anti-Semitism" perpetrated by French Muslims.
Erdoğan criticizes main opposition
The president also criticized the main opposition Republican People's Party (CHP).
"AK Party revealed its manifesto on Sunday. The people are waiting to hear what you [CHP] will construct, not destruct. Their only aim is to bring Erdoğan down. I will only step aside if my people tell me to do so," Erdoğan said.
"We said the opposition didn't have a project but I think we were mistaken. Their project is to return Turkey to the old system. This is disrespectful to the will the nation displayed in April," he added.
In an April 2017 referendum, Turkish voters approved the switch from a parliamentary system to a presidential one.
Under the changes, the number of lawmakers in parliament rises from 550 to 600, presidential and parliamentary elections will be held every five years, and presidents can retain ties to their political party. The prime minister post is also abolished.