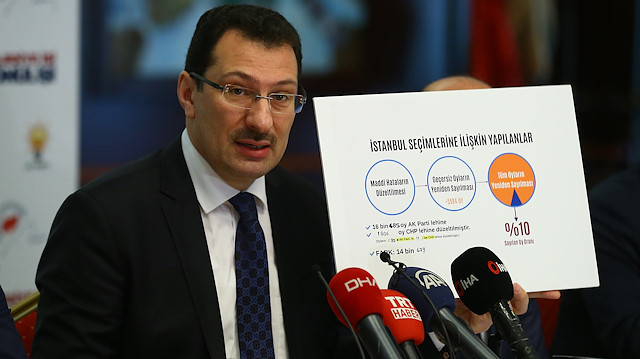 Turkey's ruling party on Saturday appealed to Turkey's election authority submitting a new petition including list of non-eligible voters with a view to cancel and renew last month's Istanbul poll.
Speaking to Anadolu Agency, ruling Justice and Development (AK) Party's deputy chairman Ali Ihsan Yavuz said 14,712 voters who were dismissed from public posts with a presidential decree were found out to have voted in Istanbul during March 31 local elections.
Yavuz said AK Party submitted to Supreme Election Council the petition with the list of voters as an attachment to their extraordinary appeal submitted on April 16.
Millions of Turkish voters cast their votes nationwide on March 31, in local elections to choose mayors, city council members, and other officials for the next five years.
Ekrem Imamoglu of the opposition Republican People's Party (CHP) on Wednesday officially took office as mayor of Istanbul -- a metropolis of 16 million people -- but his election still faces legal challenges from the ruling Justice and Development (AK) Party, citing illegalities at the polls.