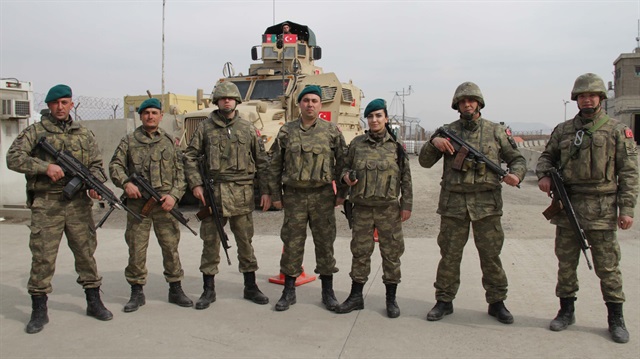 Key decisions have been made in the Turkish Armed Forces (TSK) in the aftermath of the deadly July 15 coup attempt, during which a group of rogue officers sought to overthrow the elected government.

Turkey's Official Gazette announced on Monday that under a statutory decree, seen as part of Turkey's current three-month state of emergency, the prime minister, chief of General Staff, the deputy prime ministers, justice minister, foreign minister, interior minister, defense minister and force commanders would join to the Supreme Military Council (YAŞ).

Under the statutory decree, Turkey's land, naval, and air forces are now under control of the Defense Ministry.

The move allows the president and the prime minister to receive information directly from the force commanders when it is necessary and to give them direct orders, which will be fulfilled immediately without approval from any authority.

Turkish Coast Guard and Gendarmerie General Command have been brought under the control of the Interior Ministry.A new university called the National Defense University will be established under the Defense Ministry.

The university will offer new institutions to train staff officers and give postgraduate education, including war academies and vocational schools that train non-commissioned officers.

The decree also assigns Ankara's Gulhane Military Medical Academy and military hospitals across Turkey under the Health Ministry.Health service priorities will be given to the relatives of martyrs and veterans.

Turkey's war academies, military high schools, and high schools that train non-commissioned officers have been closed.

Students who continue their studies in war schools, faculty and colleges will be registered to appropriate faculties and colleges.

A total of 3,073 military personnel including 158 general and admirals have been dismissed from Turkish Armed Forces over links to Fetullah Terrorist Organization (FETÖ).

The Akinci Air Base in Ankara and military bases in Ankara and Istanbul that sent out coup tanks and helicopters during the July 15 attempt will be closed.

Turkey declared a state of emergency on July 20 after a group of rogue military officers were defeated in their July 15 coup attempt.

During a state of emergency, the Cabinet has the right to issue statutory decrees under the president of the republic without regard to routine procedures and restrictions in Article 91 of the Constitution. These decrees are first published in the Official Gazette and then submitted to parliament for ratification.

At least 238 people were martyred and nearly 2,200 injured in the coup attempt, which Turkish officials have repeatedly said was carried out by FETÖ, led by U.S.-based preacher Fetullah Gülen.