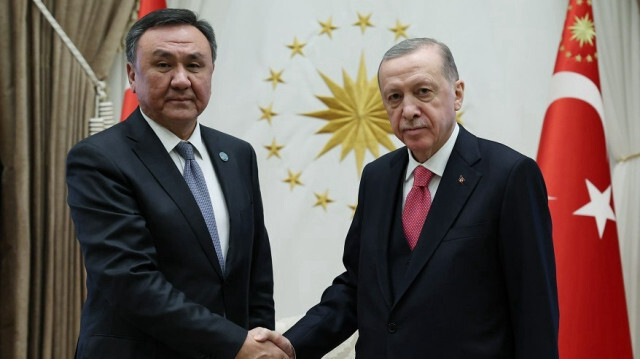 Turkish President Recep Tayyip Erdogan (R) and OTS Secretary-General Kubanychbek Omuraliev (L)
In a declaration issued after the leaders' summit on Thursday, the Organization of Turkic States voiced solidarity with Türkiye after the massive earthquakes in the southern region last month.
The extraordinary summit of leaders of the Organization of Turkic States (OTS) was held in the Turkish capital Ankara, where President Recep Tayyip Erdogan welcomed both the leaders and OTS Secretary-General Kubanychbek Omuraliev at the presidential complex.
The summit was attended by Azerbaijani President Ilham Aliyev, Kazakh President Kassym-Jomart Tokayev, Kyrgyzstan's President Sadyr Japarov, Uzbek President Shavkat Mirziyoyev, Turkish Republic of Northern Cyprus President Ersin Tatar, Hungarian Prime Minister Viktor Orban, as well as Gurbanguly Berdimuhamedov, chairman of the People's Council of Turkmenistan and Kubanychbek Omuraliev, secretary-general of the OTS.
Following the summit, the leaders signed the Ankara declaration, which conveyed condolences to the Turkish people for the two devastating earthquakes.
On Feb. 6, the magnitude 7.7 and 7.6 quakes struck 11 provinces — Kahramanmaras, Hatay, Gaziantep, Adiyaman, Malatya, Adana, Diyarbakir, Kilis, Osmaniye, Sanliurfa, and Elazig, claiming the lives of nearly 50,000 people.
More than 13.5 million people in Türkiye have been affected by the strong quakes, as well as many others in northern Syria.
In the declaration, the leaders expressed "their readiness to strengthen cooperation among national medical rescue teams of the member and observer states of the OTS, and to engage in joint capacity building activities."
The states reiterated their readiness to continue providing humanitarian relief for those who were affected by the earthquakes if and when needed.
The leaders agreed to strengthen cooperation among national disaster management authorities of the OTS to address needs in an "effective, coordinated, and timely" manner in case of possible disasters and emergencies.
They also said a post-disaster needs assessment will set a good reference point for the international community in continuing its support to Türkiye throughout the course of recovery and reconstruction of the affected regions.
About the Turkish Republic of Northern Cyprus, which obtained an observer status during last year's summit in Uzbekistan, the leaders appreciated the active involvement of the observer states in the activities of the organization.
They welcomed the signing of the agreement establishing the Turkic Investment Fund which aims to mobilize the economic potential of member states of the OTS and strengthen the trade and economic cooperation between them.
The leaders also extended their gratitude to Erdogan for his robust and lasting contributions to the unity and solidarity as well as security and prosperity of the Turkic world.
The leaders condemned in the strongest terms the recent hate crimes against Islam's holy book, the Quran, that offended all Muslims and could pave the way for new racist, xenophobic and Islamophobic provocations and attacks in the future.
The organization will hold its next summit in Kazakhstan, according to the declaration.
17 days ago