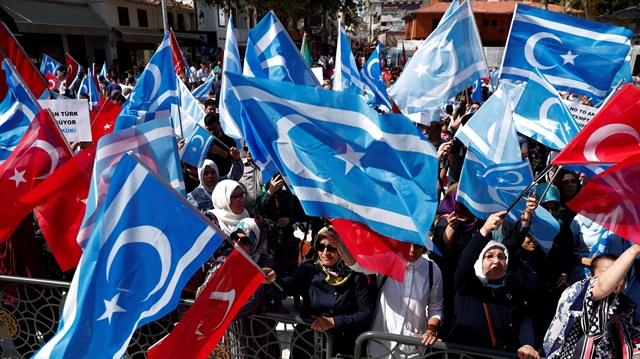 A Turkish city has hung a giant Turkmen flag in an attempt to react to the Iraqi Kurdish Regional Government's (KRG) illegitimate referendum on independence and what it considers to be an unfair policy towards Turkmen in the region.
The southern Mersin Metropolitan Municipality Friday hung the Turkmen flag along with the Turkish flag and Ataturk's picture on the municipality's wall.
The move came in an effort to support a "Kirkuk Lovers" event to be held on Sunday in the Turkish capital Ankara, according to a statement from municipality.
Kirkuk was a Turkish city for more than a thousand years, Burhanettin Kocamaz, Mersin mayor, said in the statement.
"For this reason, we support the campaign across Turkey and Turkish communities in this way. Thus, the Turkish Republic's great flag and Kirkuk's independence flag will fly together on the wall of Mersin Metropolitan Municipality."
"What we believe is that Kirkuk is and will be a Turkish city. It is not only 5,000 people, it is the whole Turkish people standing with Kirkuk," he said.
On Sept. 25, Iraqis in KRG-held areas -- and in several areas disputed between Baghdad and Erbil -- voted on whether to declare independence from Iraq.
According to results announced by the KRG, almost 93 percent of registered voters cast ballots in favor of independence.
The illegitimate referendum was heavily criticized by most regional and international actors, many warning that it would distract from Iraq's ongoing fight against terrorism and further destabilize the already-volatile region.
Earlier this month, Iraq's prime minister warned the Kurdish Regional Government (KRG) against mobilizing their armed Peshmerga forces in the disputed northern province of Kirkuk.
The Kirkuk province along with parts of the provinces of Nineveh, Saladin (northern Iraq) and Diyala (eastern Iraq) are disputed between Baghdad and the KRG and inhabited by a mixture of ethnic Kurds, Arabs, and Turkmen.