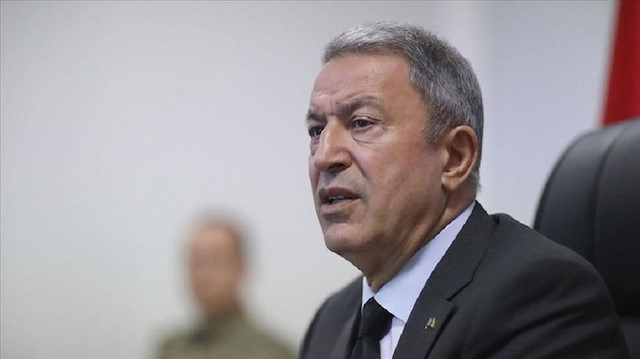 The Turkish protest of a French decision to declare April 24 a day commemorating events in 1915 between Turkey and Armenia has spread to bilateral military ties.
Turkish National Defense Minister Hulusi Akar on Thursday spoke on the phone with his French counterpart, Florence Parly, to voice his displeasure at the decision, said the National Defense Ministry.
In addition, the two spoke about Syria and exchanged views about defense cooperation between Turkey and France.
On Wednesday, French President Emmanuel Macron signed an order declaring April 24 a day to commemorate historical events between Turkey and Armenia.
Separately, Turkish Foreign Minister Mevlut Cavusoglu and his French counterpart Jean-Yves Le Drian also spoke on the phone, said Turkey's Foreign Ministry. No details of the conversation were released.
Earlier Thursday Cavusoglu dismissed the declaration as "invalid," adding that France should look to its own misdeeds in colonial Algeria instead of criticizing others.
Turkey's position on the issue is that the deaths of Armenians in eastern Anatolia in 1915 took place when some sided with invading Russians and revolted against Ottoman forces. A subsequent relocation of Armenians resulted in numerous casualties.
Turkey objects to the presentation of the incidents as "genocide" but describes the 1915 events as a tragedy in which both sides suffered casualties.
Ankara has repeatedly proposed the creation of a joint commission of historians from Turkey and Armenia plus international experts to tackle the issue.
* Writing by Can Erozden