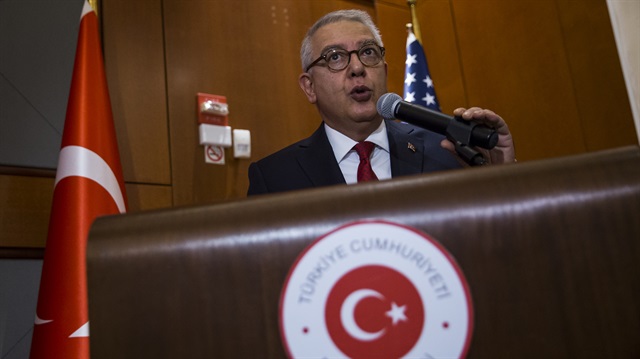 The Turkish Ambassador in Washington on Wednesday criticized the double standards of countries which raised hue and cry over Turkey's counter-terror operation in Afrin, northwestern Syria, but chose to ignore killings in Gaza.
On his arrival to Istanbul, where he was called for consultations on current issues with the Foreign Ministry, Serdar Kilic lamented the indifference of some countries over indiscriminate firing by Israel on Palestinian protesters.
Speaking to reporters at Ataturk Airport, Kilic condemned the relocation of the American Embassy from Tel Aviv to Jerusalem, calling it "an attack nullifying the significance of the city that is important for three religions, Islam, Christianity, and Judaism".
"All the countries and humanitarian agencies calling on us for the prevention of civilian casualties in Afrin are unfortunately silent (on the Palestinian issue). The necessary humanity is not exhibited on the Gaza victims."
On Monday, at least 62 Palestinian demonstrators were martyred - and hundreds more injured - by Israeli troops deployed along their side of the Gaza-Israel fence.
According to the Palestinian Health Ministry, more than 100 Palestinian demonstrators have been martyred by the Israeli army gunfire since the Gaza rallies began on March 30; at least seven minors and an 8-month-old baby are among those killed.
Monday's demonstration had coincided with Israel's 70th anniversary - an event Palestinians refer to as "The Catastrophe" - and the relocation of Washington's embassy to Jerusalem, which also took place Monday.
Turkey on Jan. 20 launched Operation Olive Branch to remove YPG/PKK and Daesh terrorists from Afrin. On March 18, Turkish troops and Free Syrian Army members liberated the town of Afrin, on the 58th day of the operation.
The military has also said that only terrorist targets are being destroyed and "utmost care" is being taken to avoid harming any civilians.