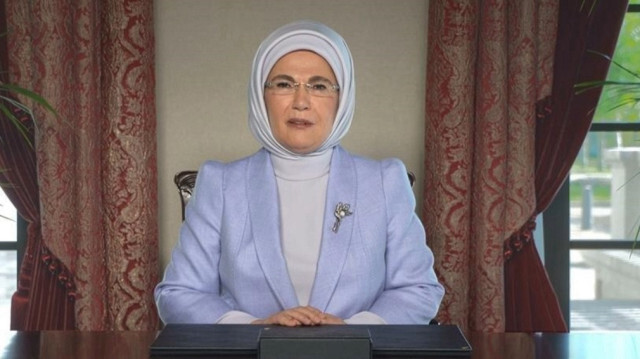 Turkish first lady Emine Erdogan on Monday commemorated the Gazan children killed in Israel's ongoing attacks on the besieged enclave for more than a month, as Nov. 20 marks World Children's Day.
"0, 1, 3, 5, 6, 8, 9 ... These are not just numbers. They represent the ages of thousands of children in Gaza, which has been bombarded by Israel since Oct. 7, whose most fundamental right, the right to survive, has been taken away," Erdogan said on the social media platform X.
"We are too late to help the children who console their siblings with the words, 'don't be worried; we will die soon'," she added.
"This is a dreadful and tremendous shame on humanity as a whole."
The first lady said Nov. 20 this year marks the "darkest" World Children's Day, when the Palestinian children are not sure if they will survive the Israeli attacks to see the day after.
"As time is running out for the defenseless children still living in Gaza, let us all shout 'cease-fire now' more loudly, especially today!"
Erdogan wished to leave a world worth living in for every child.
Since Israel started bombing the Gaza Strip after a surprise Hamas attack on Oct. 7, at least 13,000 Palestinians have been killed, including over 9,000 women and children, and more than 30,000 others have been injured, according to the latest figures by Palestinian authorities.
Thousands of buildings, including hospitals, mosques and churches, have also been damaged or destroyed in Israel's relentless air and ground attacks on the besieged enclave.
An Israeli blockade has also cut Gaza off from fuel, electricity and water supplies, and reduced aid deliveries to a small trickle.
The Israeli death toll, meanwhile, is around 1,200, according to official figures.
11 days ago