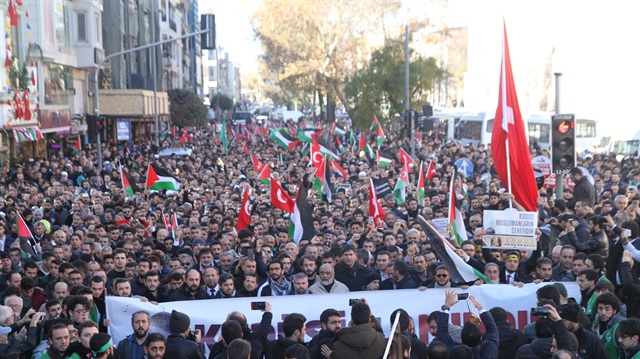 Six groups on Tuesday called on their thousands of members to join a protest in the Turkish capital on Sunday against the U.S. recognition of Jerusalem as Israel's capital.
Trade unions Memur-Sen and Hak-Is, IHH Humanitarian Relief Foundation, Anatolian Youth Association and religious associations Cihannuma and ONDER issued a joint statement calling for a show of unity with Palestinians.
"The dirty plan conducted is not only an attack against Jerusalem and Palestine but against all the gains of humanity and world peace," the statement said, referring to U.S. President Donald Trump's announcement last week recognizing Jerusalem as the capital of Israel.
Jerusalem remains at the heart of the Israel-Palestine conflict, with Palestinians hoping that East Jerusalem -- occupied by Israel since 1967 -- might eventually serve as the capital of a Palestinian state.