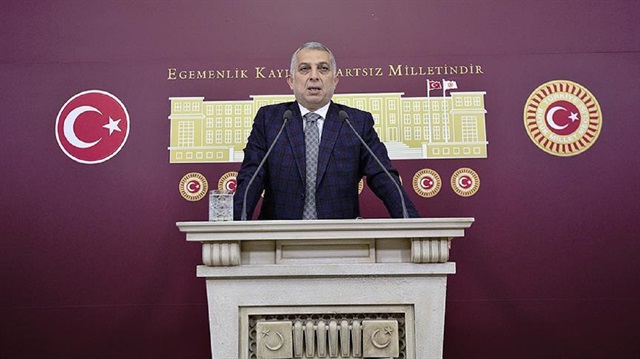 A ruling Justice and Development (AK) Party deputy on Friday described accusations by a German news channel against him as a "plot by Fetullah Terrorist Organization (FETÖ)", the group behind last year's defeated coup in Turkey.
The remark by Metin Külünk, AK Party's deputy for Istanbul, came after a program on ZDF claimed the politician had provided money to a boxing gang in Germany to go after critics of President Recep Tayyip Erdoğan.
The Osmanen Germania gang was also allegedly instructed to organize protests against last year's so-called Armenian genocide resolution passed by the German parliament, according to the report broadcast on the channel.
Külünk said in a meeting: "None of the activities or visits I made in my personal capacity or on behalf of the AK Party are illegal. On the contrary transparency has always been a priority."
He said the accusations to defame Erdoğan are typical to FETÖ.
"On one hand the German authorities allow the bloody PKK terror group and its supporters the freedom to blackmail, kidnap, organize protests and harass the Turkish society [in Germany], and on the other it defames Turkey through fictional accusations," he said.
He called the accusations an aim to subject Turks in Europe "to a cultural genocide".
'Germany should use common sense'
He asked the German authorities to exercise "common sense" so that its judiciary and media does not become "a toy in the hands of PKK and FETÖ".
Separately, in an interview with Anadolu Agency, Külünk called on Germany to maintain positive relations with Turkey and end its cooperation with terror groups.
"Germany cannot establish strong connections with Turkey by embracing terrorist organizations like PKK, FETÖ, DHKP-C. They will strengthen by respecting the independence of the Republic of Turkey and acting upon the 250-years of friendly history," he added.
More than 1,200 people, including security force personnel and civilians, have lost their lives since the PKK -- listed as a terrorist organization by Turkey, the U.S., and EU -- resumed its decades-old armed campaign in July 2015.
FETÖ and its U.S.-based leader Fetullah Gulen orchestrated the July 15, 2016 coup attempt which left 250 people martyred and nearly 2,200 injured.
Regarding the evidences obtained by the German media, Külünk said Turkish Foreign Minister Mevlut Çavuşoğlu was illegally wiretapped by Germany.
He also said the allegations are "directly targeting Turkey like in the [Rıza] Sarraf case" and affirmed they will seek their legal rights in Germany.
Sarraf last month accepted all the U.S. charges against him and agreed to cooperate as a witness against Mehmet Hakan Atilla, the former deputy CEO of Turkey's state-run lender Halkbank.
Sarraf was detained last year in New York on charges of violating U.S. sanctions against Iran, while Atilla was arrested in the U.S. earlier this year on similar charges.