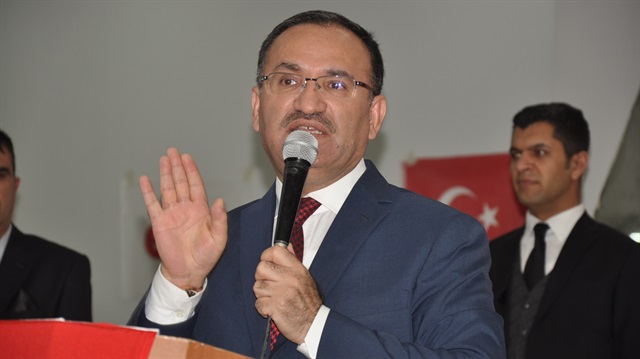 Germany has been accused of supporting terrorism, targeting Turkish nationals and disregarding democratic values in a letter from the Turkish justice minister.

In a letter to his opposite number released Thursday, Bekir Bozdağ highlighted several concerns.

His comments came as Turkey is embroiled in a war of words with European leaders over political campaigning by ministers to promote a Yes vote in next month's referendum to change the Turkish constitution.

The letter was a response to a March 2 letter to Bozdağ from German Justice Minister Heiko Maas in which he raised the detention of Turkish-German journalist Deniz Yücel.

In his reply, Bozdağ said Yücel had been arrested for spreading terrorist propaganda, not journalism "as you claimed in the latest letter".

He pointed out that Turkish ministers were unable to interfere in the judicial system and said the court would make its decision without outside influence.

Bozdag also highlighted increasing Islamophobia, xenophobia and racism in Europe.

He particularly voiced concern at the lack of progress in the cases of the Nationalist Socialist Underground killings that targeted ethnic Turks and the 1993 arson attack in the city of Solingen that killed three girls and two women from a Turkish family.

- Ministers blocked

Around 2.5 million Turkish nationals living in Europe are entitled to vote in April's referendum to grant the president wide-ranging powers. At the weekend, two Turkish ministers were blocked from addressing voters in the Netherlands' city of Rotterdam, sparking a furious response from Ankara.

These incidents following the cancellation of campaign events in Germany that prompted President Recep Tayyip Erdoğan to accuse the German authorities of "Nazi practices".

Bozdağ, who, along with Erdoğan, was prevented from addressing crowds in Germany, said the events had been "cancelled intentionally" in "open contrast with democracy, the rule of law and human rights."

He added: "It should be known that Turkey and the Turkish nation will not forget those who support them and those who abandon them in difficult times."

The minister repeated the long-standing Turkish allegation that Germany harbours terrorists from the PKK, the DHKP/C, and the Fetullah Terrroist Organization, which Ankara has said orchestrated last July's attempted coup.

He accused Berlin of "winking" at the propaganda, fundraising and recruitment activities of such groups and failing to take action against terror suspects wanted in Turkey.

"We should not allow deep-rooted relations between Turkey and Federal Germany to be damaged by terrorist organizations, putschists and those who oppose Turkey," Bozdağ added.

"Together we should fight against them."