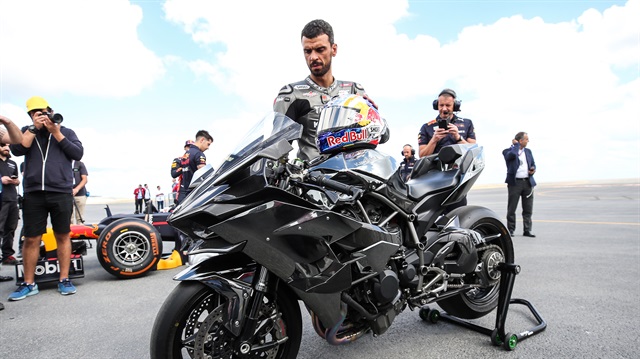 A tech festival in Istanbul kicked off on Thursday with an unusual race between a motorcyclist and a fighter jet.
The audience at Teknofest Istanbul watched in awe as Kenan Sofuoğlu won the race.
Mounted on his Kawasaki H2R motorcycle, the Supersport World Champion and Turkish lawmaker, raced against Solo Turk's F16 jet and special jet Challenger 605.
He also sped with sports cars Red Bull Racing Formula 1, Tesla P100DL, Lotus Evora 430 GT and Aston Martin New Vantage.
In one of the races, he contested against a Kawasaki H2R.
The Solo Turk and the Turkish Stars, aerobatic teams of the Turkish Air Forces, performed a 30-minute aerial routine at the festival.
Nearly 80,000 people registered for the festival.
Teknofest Istanbul, organized by the Turkey Technology Team Foundation (T3) and the Istanbul Metropolitan Municipality, aims to promote and showcase Turkey's rapid advance in technology.
In 2007, Sofuoglu won the Supersport World Championship, a motorcycle racing competition on paved surfaces.
After his 2007 win, he became a Kawasaki rider in 2013, and won his third title the same year. In 2015 and 2016 he won two more titles.
In May, after taking part in the qualification rounds of the 5th World Supersport Championship in Imola, a town in northern Italy, Sofuoğlu announced the end of his active sports career.